How Christie's Is Winning the Art Auction Wars
Christie's is winning the auction wars by selling to young—sort of hip!—buyers
By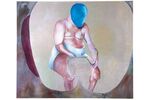 Christie's, the 248-year-old auction house, is taking off its suit and putting on some ripped jeans. To promote its May 12 auction, If I Live I'll See You Tuesday, the company posted a YouTube video of skateboarder Chris Martin careening past multimillion-dollar art to the indie hit Sail by Awolnation. The curator, Loic Gouzer, a handsome contemporary art expert who's been linked to Mad Men star January Jones, hyped the works on his Instagram feed. Last July, Christie's held a charity sale hosted by Leonardo DiCaprio (who happens to be a friend of Gouzer's). And during 2013 it ran 49 Web-only, youth-friendly auctions—prints went for as little as a few hundred dollars. The initiatives have helped bring in a record $7.1 billion in sales in the past year, compared with $6.3 billion at rival Sotheby's.
All this was dreamed up by Christie's chief executive officer, Steven Murphy. Unlike his competitors, Murphy has no prior fine art expertise (or noble European lineage) and says that selling artists' work isn't that different from his former jobs as president of Angel Records and publishing house Rodale. Soon after he arrived at Christie's in 2010, he began allowing buyers to bid on works online. It seems obvious, but for a fusty auction house it was a revolutionary tactic.

The establishment is dubious. Los Angeles Times critic Christopher Knight dismissed Christie's skateboarding video as "clumsy art schtick," while the New York Observer's M.H. Miller told National Public Radio it was aimed at "a bunch of punk rockers" with a spare $10 million to spend. Wade Guyton, one of the artists featured in If I Live I'll See You Tuesday, was so offended at the high estimates for his inkjet-printed work that he created duplicates and posted them on Instagram in an effort to devalue his own art. It didn't. His Untitled sold to a telephone bidder for more than $3.5 million.
The May 12 auction exceeded the most optimistic expectations, raising $134.6 million. Murphy attributes the success to Gouzer, who handpicked each of the 35 pieces and deliberately mixed art from relatively unknown artists such as Alex Israel with works by icons like Andy Warhol and Jeff Koons. (The title of the auction came from a piece by Richard Prince, who had a canvas sell for $8.6 million, a record for him.) Gouzer says he cajoled many of the existing owners to put works into the show despite its gimmicky nature. Why the skateboarding video on YouTube? "It matches the feel in the art, the feel of the buyer."
While the market for top items remains dominated by billionaires such as Peter Brant and Daniel Loeb, both of whom were in attendance on May 12, Gouzer is seeking out younger buyers who make their money in Hollywood or Silicon Valley. Actor Tobey Maguire was there. And last June, Christie's co-hosted a cocktail party at the home of Lucy and Larry Page, co-founder of Google. For that crowd, the idea of acquiring an artist before his or her peak has particular appeal, Gouzer says. "Even if they sell for millions of dollars, these pieces are worth a fraction of what they'll be worth later on." In the meantime, Murphy says he's happy to let the traditionalists rage. "Whatever we're doing seems to be working so far."
Before it's here, it's on the Bloomberg Terminal.
LEARN MORE