China Says 'No Thanks' to Windows 8
Christina Larson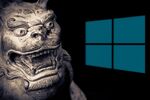 Microsoft's Windows operating system has long benefited from inertia—for many large companies, it's much simpler to upgrade an old system than to switch to a new one (even if the OS has lost some of its luster).
But the status quo won't stand in China, where the government on Tuesday announced a ban on installing Windows 8 on new government computers. The Seattle-based software company recently ended support for its prior OS, Windows XP, which was widely used in China.
Ni Guangnan, a scholar at the Chinese Academy of Engineering, told China Central Television that the new rule was motivated in part by security concerns and that Chinese officials should use domestic-made operating systems, not foreign ones.
Another possible explanation may be a desire to nurture and favor Chinese software companies at the expense of dominant multinational organizations. (To be sure, the ubiquity of pirated Windows versions in China has already depressed Microsoft's actual profits.)
For its part, Microsoft says it was not expecting the shutout. "We were surprised to learn about the reference to Windows 8 in this [government] notice," it said in a statement, adding that its representatives are now proactively working with the Chinese government "to ensure that our products and services meet all government procurement requirements."
Before it's here, it's on the Bloomberg Terminal.
LEARN MORE