China's War on English
Official media say China's linguistic purity is threatened by the rise of English
By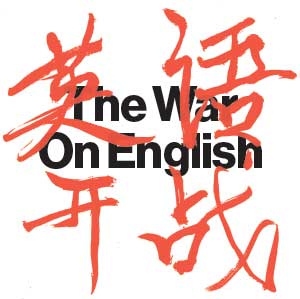 Chinese authorities are waging a war on American culture and the use of English. In April, China's media regulators yanked the popular U.S. television shows The Big Bang Theory, NCIS, and The Good Wife from Chinese streaming websites Sohu and Youku. The official party newspaper, People's Daily, ran two editorials in April bemoaning the use of words borrowed from English when speaking Chinese. Then in mid-May came a flurry of reports in the state media confirming plans announced last fall to reduce the importance of English-language instruction and to expand courses on traditional culture in grade school and high school.
The government "wants to make us respect the Chinese language and culture more," says Guo Jintong, a 16-year-old Beijing high school student, as he sits in a Starbucks drinking a grande cappuccino. "With everyone wanting to go overseas to study, there is a craze for English and the West that you can say has become excessive. This could have a bad effect on China." Guo says he plans to go to the U.S. for graduate school after getting his bachelor's in physics in China.
China's obsession with English dates to the establishment of foreign-language schools and translation centers—mainly for English—along China's coast after the Opium Wars of the mid-19th century, says Yang Rui, director of the Comparative Education Research Center at the University of Hong Kong. And while Russian was the official second language during the 1950s, English again took primacy when Deng Xiaoping launched economic reforms in 1978 and China was eager for technology and investment from the West. (Yang learned English by secretly listening to banned Voice of America broadcasts during the Cultural Revolution, when speaking a foreign tongue could land you in jail.)
Urban children usually begin studying English in the third grade, and it is one of three core subjects throughout elementary and high school, along with math and Chinese. Regardless of what field one chooses, passing an English proficiency test is required to get into university and graduate school. Academics who want to be promoted to a full professorship have to pass English examinations. Language training schools including New Oriental and Global Yasi School have opened branches across the country to meet the demand. "English has become more important not only in schools but in society as well," says Wang Xiaoyang, product director of the Higher Education Research Institute at Tsinghua University. "Now it looks like China's English fever has reached a high point."
Why clamp down now? China by one measure—purchasing power parity—could become the world's largest economy this year. It's increasingly asserting itself overseas. Studying Chinese is growing in popularity in schools across the U.S., and China's education authorities are pushing Chinese language and culture globally, in part through the opening of Confucius Institutes.
Top leader Xi Jinping has popularized the idea of a "Chinese Dream" aimed at providing an alternate source of aspiration for the nation's youth now seen as blindly pursuing Western values and pleasures. "China has developed and become more confident about its own identity, and we think we can and need to say no to certain things; that, unfortunately, includes Western culture and English language," says University of Hong Kong's Yang. Zhan Haite, the 16-year-old daughter of migrant workers in Shanghai, says, "They are doing this because they want to show the world I'm proud that I'm Chinese. But they also want to close the door for Chinese students so they can't see or know so much about the world."
The authorities fear the Chinese are losing mastery over their written language. With smartphones, tablets, and computers equipped with character recognition software, Chinese have less need to remember the strokes for the 3,500 to 4,000 characters the average high school graduate is expected to know.
A survey last year by Beijing-based Horizon Research Consultancy Group found that 94.1 percent of Chinese occasionally had trouble remembering characters, while 26.8 percent said the problem occurred frequently. Television shows such as Hero of Hanzi (hanzi means Chinese character), where contestants compete to write characters—the equivalent of a spelling bee—have become national hits. The worries are starting to increase business at private Chinese-language tutoring schools that introduce children to classic literature such as Romance of the Three Kingdoms. The shift in emphasis away from English and toward Chinese will "drive demand for programs where children can learn more about traditional culture," says Wang Naizhong, director at Dongxuetang, a private school in Beijing that teaches children their characters and Chinese traditions.
The integrity of the Chinese language is being damaged by English, argue editorials in the state press. That concern has sparked the latest calls for linguistic purity: Chinese media were told to start using a list of official Chinese translations for English abbreviations and acronyms including GDP, IQ, and AIDS that was released last September. Two more catalogs of required translations are to be released. "Mingling foreign words in Chinese has harmed the purity and health of the Chinese language," warned the People's Daily in April, criticizing the common usage of Wi-Fi, CEO, and MBA.
Over the last three decades, English has risen in importance in the crucial zhongkao and gaokao, the annual high school and college exams held in early June. English is given equal weight with math and Chinese. Now the Ministry of Education plans to reduce the points allotted to English from 150 to 100 in the college exam, while raising the points for Chinese.
Yang and Tsinghua's Wang say they worry that any move to lessen the importance of English in the exams will reduce English education in classrooms across the country. It may already be happening, says Ms. Tang, an English teacher at the high school affiliated with the University of Electronic Science and Technology of China in Chengdu. She declined to give her full name, saying she's not authorized to speak for her school. Her former students are learning "that it's really difficult to find jobs in public schools [as English teachers], because unlike previous years, they are not hiring now. The main reason is that it's unclear how this gaokao reform will affect the schools and their English teachers," she says.
The role of private English-language schools will expand if the public-school curriculum stresses English less. But high tuition fees could put these private schools out of reach for China's poorer students, exacerbating an already severe gap in educational resources between urban and rural China. "If we are not careful with this English gaokao reform, then it may create new inequalities in the system," says Xiong Bingqi, vice president at the 21st Century Education Research Institute, a Beijing nonprofit that focuses on equity in education.
China's officials envision a workforce that can further develop the economy and manage Chinese companies as they go global. And they want party officials who can promote the so-called soft power of economic and cultural influence. They know English is essential for this as the global lingua franca but are equally concerned about the spread of what they view as pernicious Western values, including democracy, civil society, and a free press. The government fears that if English spreads throughout China, then so will Western cultural influences. But, says Yang, you can still use English to say, "Long live Chairman Mao!"