Yuan's Global Success Hinges on Mundane Challenges, Survey Says
Nandini Sukumar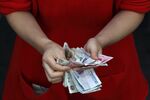 The yuan's prospects as a global currency hinge in part on solving mundane structural deficiencies including a lack of broker readiness and language barriers, according to a survey of investment professionals in Europe and Asia.
Other challenges to the Chinese government's goal of broadening use of the currency include a lack of investment products denominated in the yuan, according to respondents in the study from Aite Group LLC, a Boston-based research firm. Many participants cited 2020 as a potential date for full convertibility of the yuan, a prerequisite for becoming a reserve currency, according to Aite.
While China is seeking to boost global usage of the yuan, foreign investors must still apply for quotas to invest in onshore bond and stock markets. Nevertheless, the currency is playing a greater role in commerce, accounting for 8.7 percent of global trade in October 2013, up from 1.9 percent in January 2012, according to data cited by Aite. That's still dwarfed by the U.S. dollar's share at 81.1 percent.
"The numerous challenges related to interacting with onshore Chinese payment, clearing, and settlement systems mean that processing in renminbi involves higher operational costs and levels of latency than for other major currencies," Virginie O'Shea, author of the Aite report, said in an interview. "Operational issues remain the biggest barrier to using renminbi," she said, referring to the currency by its alternative name.
'Unique Opportunity'
The Aite report is based on interviews this year with employees of 24 firms. It was commissioned by Luxembourg-based Clearstream Banking SA, one of Europe's largest settlement houses, which in turn is owned by Deutsche Boerse AG, operator of the Frankfurt stock exchange. Bankers, legal professionals, consultants and asset managers were among the respondents.
"This report gives you an insight into what market users think," Marc Robert-Nicoud, the Clearstream board member responsible for corporate strategy, said in an interview. "The yuan is a very unique opportunity. It's also very rare to have a currency that achieves such significance in such a short time. There will be a significant uptake in the future."
China's desire to encourage greater yuan use has a tailwind: 87 percent of survey respondents said Dim Sum bonds, or debt issued outside China that's denominated in the yuan, are "appealing." Aite forecast that 554 billion yuan ($89 billion) of the securities will be issued in 2014, up from 375 billion yuan last year. HSBC Holdings Plc, the top underwriter of the securities, forecast in December that issuance would be between 520 billion yuan and 570 billion yuan.
Frankfurt, Paris
Frankfurt prevailed over Paris and Luxembourg in a euro-area race to be an offshore trading center for the renminbi after Germany's Bundesbank and the People's Bank of China signed an agreement in March enabling the clearing and settlement of payments in the Chinese currency. The Bank of England signed a similar agreement for London on the final day of the month.
"More than half of interview respondents believe that Europe will play a key role in the currency's internationalization process," the Aite report said. "Europe's sophisticated infrastructure is its main appeal."
Global success for the currency may not be far away, though near-term prospects depend in part on the policies of the People's Bank of China, according to Aite.
"Many industry participants believe 2020 will represent a key turning point for the renminbi as an international currency and the point at which it is likely to reach full convertibility on a global stage," the report said. Until then, offshore markets will "largely depend on liquidity provided by PBOC," it said.
Before it's here, it's on the Bloomberg Terminal.
LEARN MORE