Why Germany's Netflix Might Not Show House of Cards
By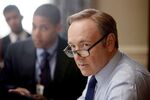 Netflix will open its steaming service to people in a half-dozen additional European countries by the end of the year, nearly doubling the number of nations it serves on on the continent.
The move announced on Wednesday will be the company's biggest expansion in years, bringing streaming video to Germany, France, Austria, Switzerland, Belgium, and Luxembourg. From a technological perspective, offering service in one country is pretty similar to offering service in another: Plug in the pipes and get the flicks flowing. But Netflix's main challenge as it moves into new parts of the world is securing distribution rights to movies and television shows. That's why the service looks different in different countries.
A Netflix spokesman declined to give specifics about the shape of the service in its new markets, where prices have to be announced. Netflix has said it uses a number of factors to determine what it shows in a new market. Apart from considering local tastes, the company looks at the local cable deals and assesses what's popular on piracy sites to determine that. Such work can slow the company down. "It's difficult to imagine a pan-European strategy for programs—in most countries, the Top 10 watch list is still mostly national content specific to each country," Gilles Fontaine, an analyst at France-based Digiworld, told Bloomberg News.
It's expensive for Netflix to move into a new country. Marketing costs are particularly high at first because local cord-cutters may not be familiar with the service. Netflix may also have to spend more on content in some places, depending on competition. So even if there is local demand for a show, Netflix might decide against paying to distribute it. At times, competitors may try to structure deals that keep the company from carrying certain shows.
"It really does depend on the territory," Netflix Chief Financial Officer David Wells said at JPMorgan's global technology, media, and telecom conference on Tuesday. "There's some markets where the incumbent players may be trying to lock rights and other things, but what I've learned over the last two years to four years is it's extremely difficult to suck all the content oxygen out of the air of a market. There's a lot of content. We've entered markets before where there's certain content that has been locked up or not available or 'too expensive' and we've been able to compete and add things on the margin. And then—suddenly—something unlocks."
That unlocking process could take some time. For those who can't wait, a cottage industry has emerged to trick Netflix (and other content companies) into thinking that someone in, say, France, is really in Canada. One show that might be driving Europeans to such services? Netflix's House of Cards, a show that, in the U.S., is the face of Netflix's foray into original content. Because the company doesn't own international first-run rights to distribute House of Cards digitally, Germans who subscribe to the service may not quite understand what their American friends have been talking about.
Before it's here, it's on the Bloomberg Terminal.
LEARN MORE