Weekend Getaway Showdown: Portland, ME vs. Martha's Vineyard, MA
by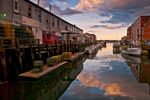 A three-day beach vacation is very rarely just about the beach. There's (sea) food to consider, summer activities, and, less thrillingly, transportation issues to figure out. After all, the ideal summer beach weekend should be less than a two hour flight away: you can leave at 6 p.m. on both Friday (full day of work) and Sunday (full day of sun and sand), and arrive in time for dinner.

We matched up two preppy destinations proximate to New York, Martha's Vineyard and Portland, Maine for a head to head competition to see who takes home the blue ribbon (belt).
Flight Time
Martha's Vineyard: 1 hour, 2 minutes
Portland: 1 hour, 12 minutes
Winner: Tie, basically. No point splitting hairs when you're flying out of JFK.
Airport Car Rentals
Martha's Vineyard: Hertz, Budget, Avis
Portland: Alamo, Avis, Budget, Enterprise, Hertz, National
Winner: Portland. There's nothing worse than planning a perfect vacation only to find out all the rental cars are booked.
Hotel
Martha's Vineyard: Many of Martha's Vineyard's hotels and inns aren't beach-side. Instead, some of the best options are in town. If you can get past its hokey name, the Hob Knob hotel is small enough to be integrated into the fabric of Edgartown, but luxe enough that you don't feel like you've crashed at your parents' place. You're in the heart of downtown (not exactly a wild scene), but you can get an ice cream, go sailing, look at boats on the docks, or walk along the harbor.
Portland: Just 20 minutes south of Portland is the Black Point Inn on Prouts Neck, a tiny peninsula that looks out onto the open ocean. There's a rolling lawn leading down to the water, a porch with rocking chairs, and -- this being a peninsula -- three distinct beaches within a two minute walk of your hotel room. There are less comfy rock beaches as well that you might recognize from the paintings of Winslow Homer, a longtime Prouts Neck resident.
Winner: Tie. Both have beds and great locations. You're not going to spend any time in them, anyway. It's a beach vacation.
Activities
Martha's Vineyard: The Hob Knob has its own Boston Whaler that you can charter for fishing or cruising (or cruising past fish?), bikes for rent, and a spa for decompressing after a day spent on the beach. The island also has great bakeries to test out, a number of golf courses, and a variety of lighthouses to explore.
Portland: Guests at the Black Point Inn have access to the private, 18-hole ocean-side Prouts Neck Country Club next door. There are also bikes, tennis courts, and a yacht club right outside the front door. Plus there's the Prout's Neck bird sanctuary, a lovely cliff walk, and a recently refurbished museum insideHomer's former painting studio. And that's not including the museums, shopping, boating, and island exploring on offer from downtown Portland.
Winner: Portland. More is more when it comes to activities...
Beaches/ Swimming
Martha's Vineyard: The beaches on Martha's Vineyard are gorgeous -- huge and sandy. And the water? Surprisingly warm. Now the bad news: most beaches on the Vineyard are private, which means that the few public ones (South beach, Menemsha, and others), are packed during the high season.
Portland: There's a perverse irony to Maine ocean water. It looks great, it smells great, but it's so cold that it's actually painful to the touch, even in August. (Favorite Maine pastime: watching grown men scream the first time a wave hits them.) That's one theory why sailing's so big there: everyone likes being near the ocean -- they just can't handle actually going in.
Winner: Martha's Vineyard. A crowded beach you can enjoy is better than an empty beach that inflicts harm.
Restaurants
Martha's Vineyard: Unsurprisingly, seafood is the island's most reliable cuisine. There's Larsen's Fish Market in Menemsha and the Seafood Shanty in Edgartown, but then there's also the unexpectedly good pizza at the Chilmark General Store, and the slightly swanky Lamberts Cove Inn restaurant in West Tisbury. And don't miss the Scottish Bakehouse or the Black Dog Cafe near Tisbury for baked goods.
Portland: By almost any measure, the Portland area has some of the best restaurants in America. There's Street and Company, which serves a slow cooked squid that will make every other calamari dish you've ever eaten seem like rubber; Days Crabmeat and Lobster, a shack on the side of the highway that draws consistent crowds; and Hugo's, which is as good --or better -- than anything you could find in New York.
Winner: Portland, by a mile. But to be fair, Martha's Vineyard is bringing fried crab cakes to a Michelin star fight.
Tally it up and Portland comes out on top as a three-day getaway from New York City. (Cue the hate-mail.) Still, both options are more or less a guaranteed good time. The real question isn't which to go to, but when. Memorial Day's right around the corner...
Before it's here, it's on the Bloomberg Terminal.
LEARN MORE