Vail Wins Another Round in the Fight Over Park City Mountain
By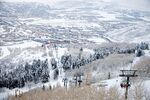 The biggest company in the ski industry just got a little bigger. A federal district court in Utah ruled on Wednesday that Park City Mountain Resort had failed to renew its lease on time, effectively handing most of Park City Mountain's ski terrain over to competitor Vail Resorts.
As Bloomberg Businessweek reported in February, Park City Mountain Resort has been locked in a dispute with its landlord, Talisker, since 2011. When Vail took over management of the neighboring Canyons Resort in 2013, it also acquired the rights to the land under dispute—and took over the legal battle. The 82-page ruling (PDF) establishes that PCMR failed to renew its lease on time. Since the lease wasn't in effect when Vail began its negotiations with Talisker, PCMR also lost its right of first refusal on any sale or transfer of the property. So as the court sees it, the terrain is Talisker's to do with as it wants, which is to bring in Vail as the new tenant and operator of the terrain, as attorney John Lund said in a statement.
Vail Chief Executive Rob Katz has long pressed his vision of a unified, 7,300-acre megamountain, and this development brings him closer—but only a little. PCMR already said it plans to appeal the judgment and has filed a motion asking the court to delay its ruling until the appeal plays out. "We anticipate that PCMR will operate business as usual for the 2014-15 season," said PCMR attorney Alan Sullivan. "We believe that no action affecting the operation of the resort can occur until the appeals are completed, which is likely to take at least a year."
Meanwhile, John Cumming, CEO of PCMR parent company Powdr, wasted no time pointing out the challenges Vail will face in operating a resort on the leased territory. PCMR still owns the base, including the facilities, and the water rights, which are critical for snowmaking. "They are not for sale," Cumming said.
Talisker attorney Lund responded with another statement:
While we recognize that PCMR has the right to appeal, they have now brought numerous claims over three years, substantially all of which have been dismissed by the Court. PCMR has already asked this Court to reconsider some of its earlier rulings, and PCMR's claims were denied for a second time. We do not believe an appeal by PCMR has any merit and we sincerely believe that it would be best for all concerned for PCMR to stop using the legal system to cause further delay and uncertainty and refocus instead on a positive and constructive solution.
Lund declined to comment on Vail's next moves, including whether it was planning to operate the Park City Mountain terrain in the 2014-15 ski season and, if so, how it would manage without water rights or base access. What is more clear is that PCMR will not go down without a fight. Earlier this year, Cumming said he would rip out the chairlifts on the upper land if Vail won the lawsuit; he affirmed the sentiment on Wednesday. "We will not allow a Vail takeover," he said.
Before it's here, it's on the Bloomberg Terminal.
LEARN MORE