Tiffany Moves Down Market and Makes a Mint
By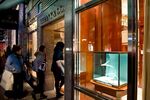 Lovestruck young bankers and Danish-munching socialites don't go to Tiffany just for the diamonds—those can be found almost anywhere. Shoppers go for the experience, the burnished reputation that comes wrapped in a turquoise box or bag.
How best to cash in on that cachet? How to keep selling that precious brand while stripping out all the diamonds and high-grade platinum that cost the company so dearly?
Tiffany is thriving in part because it has been expanding its array of relatively affordable offerings—what the company calls "fashion jewelry," as opposed to "fine jewelry." Take the Atlas Collection, a product line that caters to Tiffany tourists with pieces that are far more affordable than the bling it is known for. Customers can spend $2,800 on a gold Atlas pendant or $300 on a sterling silver version of the same piece.
Tiffany is just fine with customers choosing the cheap version: It's only $300, but that sticker price registers almost entirely as profit. Gold, at the moment, costs almost $1,300 an ounce, while a similar chunk of sterling silver can be had for less than $20. Tiffany makes a handsome profit on its high-end merchandise, too, but that's a much riskier business exposed to the turbulence in the markets of precious metals and stones.
Perhaps the purest distillation of Tiffany's tick down-market is its Heart Tag Charm. The tiny, sterling-silver pendant costs $75 and reads, "Please Return to Tiffany & Co. New York 925." It's both a profit machine and a marketing vehicle, the blue-blood equivalent of a souvenir snow globe.
In the recent quarter, Tiffany profit surged 50 percent, to $126 million, as tourists around the world increasingly clamored for those kinds of low-cost, high-margin knickknacks. Sales, meanwhile, rose a more sober 13 percent.
With a "major" new fashion jewelry collection in the works for a fall unveiling, Tiffany raised its profit forecast for the year by 2.5 percent. And the retailer is doubling down on bricks and mortar, with plans to open 13 new shops this year, and it recently cut the ribbon on stores in Moscow and on the Champs-Élysées in Paris (where the staff can say "Heart Tag Charm" in 15 different languages).
Diamonds, after all, are a commodity. Brand names are not.
Before it's here, it's on the Bloomberg Terminal.
LEARN MORE