pursuits
The NBA Says Donald and Shelly Sterling Are in Cahoots
By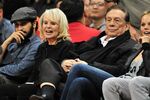 The National Basketball Association delivered its formal charge (PDF) against Los Angeles Clippers owner Donald Sterling on Monday, beginning the process of forcing him to sell the team. The basic claim is that Sterling's racist comments, both in the recording released by TMZ last month and in a subsequent interview with CNN, have had a "material adverse impact on the NBA and its teams." According to the Los Angeles Times, which obtained the full 30-page charge, the NBA alleges that Sterling tried to persuade his "companion" V. Stiviano to lie about the recording.
That attempt, according to the Times, was part of what the league characterizes as a coordinated effort by Sterling, his wife Shelly, and former Clippers President Andy Roeser to avoid punishment for the recording. The NBA claims that Donald and Shelly are still "inextricably intertwined," despite public claims of estrangement and impending divorce. The nature of the relationship between the two Sterlings has become a central part of the contest over the Clippers ownership. The league calls them full partners and says both will lose their interest in the team if three quarters of the league's other 29 owners vote them out on June 3.
Donald and Shelly Sterling have publicly distanced themselves from one another since the scandal broke. In an interview with ABC earlier this month, Shelly said that she had been talking with lawyers about a divorce for 20 years. "I signed the petition for a divorce," she told Barbara Walters, flashing the supposed papers, "And it came to almost being filed. And then, my financial adviser and my attorney said to me, 'Not now.'" Donald Sterling called Shelly his "ex-wife" in the interview with CNN.
The notion that the two are as good as divorced, while not a status with any legal standing, bolsters Shelly's claim that she is a blameless victim. Shelly has vowed to fight any league action against her claim to 50 percent of the Clippers. "I didn't do anything wrong. Why should I suffer and lose my team?" she told the New York Times earlier this month. If she and Donald are still working in concert, as the NBA suggests, a perception of distance serves his ends as well. This is why the league will treat them as one, and it's why LeBron James has publicly stated that "no one in his family should be able to own the team."
The Sterlings have a history of separating business from personal issues in their marriage. Earlier this year, Shelly Sterling sued V. Stiviano over cash, cars, and an apartment that Donald had given to her. She did not ask for a divorce from the man lavishing gifts on a woman nearly 50 years his junior. More than a decade ago, the Sterlings fought in court with a previous mistress of his, Alexandra Castro, also over property. That case revealed that Castro had signed a "friendship agreement" with Donald stipulating that she understood he would never leave Shelly. As the Los Angeles Times has reported, Castro said that Donald Sterling told her that "he and his wife had decided long ago to remain married and not divide the very substantial estate which he had accumulated during the marriage."
UPDATE at 2:30PM: Shelly Sterling's lawyer Pierce O'Donnell sent a statement saying that she "continues to be unfairly tarnished by the words and actions of her co-owner and estranged husband." O'Donnell says that Donald and Shelly have been living apart for more than a year. "While they remain business partners," he says, "Shelly has denounced his racist statements in the strongest terms. She is proceeding on her own to maintain her rightful 50 percent ownership share of the Clippers' franchise."
O'Donnell also disputes the NBA's claim that Shelly had any involvement in the Clippers official statement form April 26 about the TMZ recording, which the league calls "false and misleading." Finally, O'Donnell says the NBA has its facts wrong about Shelly and Donald's interactions since the scandal broke, in particular a dinner on April 27, where cameras caught the two of them exiting a Los Angeles restaurant. Here's part of an e-mail O'Donnell sent to Businessweek:
The NBA states that on April 27  "Mr. and Mrs. Sterling had dinner together in a Los Angeles restaurant, where in response to questions from the media as to whether Mr. Sterling is a racist, Mrs. Sterling immediately came to his defense, replying 'of course not' and 'it's not true.' " In fact, Shelly attended the dinner for her husband's 80th birthday at the impromptu invitation of a friend as part of an attempt to persuade him to apologize for his racist remarks. Also, Shelly did not come to the defense of her husband following the dinner. Rather, she was responding to the question "Are YOU a racist?" that she understood to be directed at her as she was fleeing paparazzi and rushing into her vehicle.
UPDATE May 22: In response to O'Donnell's statement, league spokesman Mike Bass points to comments made by commissioner Adam Silver at a press conference before the NBA draft lottery on Tuesday, reiterating that Shelly Sterling's will be treated like any partner under the league constitution. "We haven't focused on any conduct by Mrs. Sterling," Silver said on Tuesday. League rules, Silver said, call for "all ownership interests" to be terminated with those of the "primary controlling governor," in this case Donald Sterling, if the other owners vote him out.
Before it's here, it's on the Bloomberg Terminal.
LEARN MORE