Target Earnings Show Pain of Data Breach Is Far From Over
by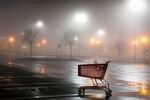 The only winners in the ongoing Target crisis are future business school students, who will be studying it for years. And perhaps the would-be chief executive officer, who will find a lot of room for improvement.
In an earnings report for the three months ending on May 3, the Minneapolis-based retail giant cataloged the widening financial fallout from its massive holiday data breach. Sales in the U.S. barely budged; globally they were up 2.1 percent. Profit, meanwhile, plunged 16 percent, dragged down by deep price cuts designed to lure back customers and a $26 million bill for lawyers and investigators hired to address its November security lapse.
What's more, Target said it can't estimate how much it will have to pay to continue cleaning up its data crisis. Over a span of weeks, 40 million credit- and debit-card numbers were stolen, along with 70 million other pieces of data, including addresses and phone numbers; Bloomberg Businessweek later revealed that the company had ignored early warnings that could have prevented the hack. In coming quarters, Target will surely have to fork out additional millions to comply with government probes and fund settlements with payment-card networks and aggrieved customers.
With those shadowy and potentially massive items ahead, Target has cut its annual profit forecast by about 6 percent. In a research note, Deutsche Bank analyst Paul Trussel stated what is becoming increasingly obvious: "It's too early to start playing the recovery theme of Target."
The company's burgeoning Canadian operations—already a problem before the data breach, though a less-pressing one after—posted a $211 million loss before taxes and interest, a slightly larger hit than it suffered in the year-earlier period. Yesterday, Target replaced Tony Fischer, its top executive in Canada, with Mark Schindele, a 15-year veteran of the company.
Interim CEO John Mulligan said the results were "in line with expectations." "While we are pleased with this momentum, we need to move more quickly," Mulligan wrote in a statement  issued this morning. While the results were below expectations, investors seemed to find some bright spots. After dropping by almost 3 percent yesterday, Target shares climbed by almost 1 percent in trading before markets opened this morning.
Before it's here, it's on the Bloomberg Terminal.
LEARN MORE