JD.com Gains in Debut After Larger-Than-Planned IPO
Leslie Picker and Lulu Yilun Chen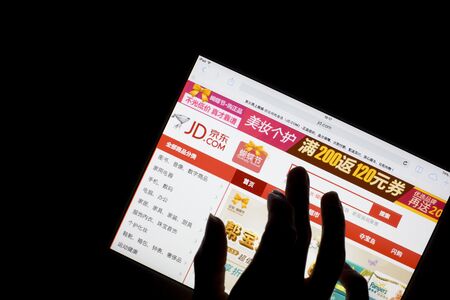 JD.com Inc., the Chinese online retailer that handled more than $20 billion of purchases on its website last year, rose in its New York trading debut after a larger-than-expected initial public offering.
JD.com gained 10 percent to $20.90, after raising $1.78 billion by selling the shares for $19. The offering is the biggest ever of a Chinese Internet company in New York, data compiled by Bloomberg show.
Spending over the Internet in China is expected to boom, even as the nation's economic growth slows, and that's spurring demand for U.S. IPOs of Chinese Internet and technology companies. With the largest of these -- by Alibaba Group Holding Ltd. -- still to come, JD.com's sale bodes well for that debut.
"People are buying JD.com largely on wanting exposure to e-commerce and that's nothing but good for Alibaba," Max Wolff, chief economist at Citizen.vc, New York-based venture-capital fund. "Excitement about Chinese e-commerce is still strong even if excitement about China has calmed down a bit."
Beijing-based JD.com has a business model similar to Amazon.com Inc.'s, meaning it handles much of its own logistics for package delivery, rather than providing the platform that connects buyers and sellers the way Alibaba does. The cost of this approach is one reason JD.com remains unprofitable while Alibaba is reporting margins of close to 50 percent.
Relative Value
"JD will have to put their cash to work and be more efficient and make that drive for profitability faster," said James Gellert, chief executive officer of Rapid Ratings International Inc., a New York-based firm that uses quantitative models to grade securities.
JD.com's market value is $28 billion at today's closing price, or 2.4 times last year's sales of $11.5 billion, according to data compiled by Bloomberg. That compares with Amazon's 1.8 times and is cheaper than EBay Inc.'s multiple of about 4, according to data compiled by Bloomberg.
All but one of the five Chinese Internet and technology companies -- including microblogging service Weibo Corp. online real-estate broker Leju Holdings Ltd. and Tuniu Corp., a Web-based travel agent -- to debut in New York this year are trading above their IPO price, data compiled by Bloomberg show. The companies have raised about $2.5 billion, the data show.
Alibaba filed for its U.S. IPO earlier this month. With an estimated market value of $168 billion, the Hangzhou, China-based company could might raise as much as $20 billion, topping a $19.65 billion offering by Visa Inc. in 2008, data compiled by Bloomberg show.
Tencent Advantage
Demand for retail items is growing in China as the middle class grows and more people move to cities from urban areas, said David Rubenstein, a managing director at Advanced Research Japan in Tokyo. Alibaba and JD.com give global investors opportunities to capture some of that growth, he said.
Revenue from e-commerce will increase 64 percent this year in China, compared with 12 percent in the U.S., according to projections by digital researcher EMarketer Inc.
Concurrent with the offering, Beijing-based JD.com is selling shares to Tencent Holdings Ltd. in a private placement. Tencent, which acquired a 15 percent stake in March, could give JD.com a boost with access to the 400 million monthly active users on Tencent's WeChat messaging service.
China is the world's largest smartphone market, and mobile shopping penetration in China is expected to increase from 9.2 percent last year to more than 20 percent by 2016, according to iResearch.
Following the pricing, JD.com founder and Chief Executive Officer Richard Qiangdong Liu, 41, becomes a billionaire, with a net worth of more than $3 billion. Liu will hold 84 percent of voting power after the offering, according to JD.com's prospectus.
Bank of America Corp. and UBS AG managed JD.com's offering. The shares are listed on the Nasdaq Stock Market under the ticker JD.
Before it's here, it's on the Bloomberg Terminal.
LEARN MORE