Janet Yellen Conjures Ghosts of Ruth, Gehrig, and DiMaggio
by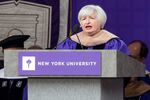 Janet Yellen, born and raised in Brooklyn, is enough of a New Yorker to know that you can't give a speech in Yankee Stadium without a nod to Yankee lore. In a commencement address on Wednesday, she told New York University graduates: "You won't succeed all the time. Even Ruth, Gehrig, and DiMaggio failed most of the time when they stepped to the plate."
The baseball metaphor was doubly appropriate because among her fellow recipients of honorary doctorates was retired Yankee reliever Mariano Rivera, baseball's all-time leader in games saved.
There was no mention of monetary policy in Yellen's address, although it may have broken ground as the first by a Fed chair to mention the California sea slug. She said NYU's Eric Kandel persisted in using the slug to study human memory, even though "his colleagues all but ridiculed him for the idea," and wound up winning a Nobel Prize.
NYU must have struggled a bit to choose the right honorary doctorate for each of its feted guests. Yellen got her doctorate in commercial science, while Rivera got his in humane letters. The other honors were more natural fits. Singer Aretha Franklin's honorary doctorate is in fine arts, while Supreme Court Justice Elena Kagan and attorney Martin Edelman got theirs in law.
Before it's here, it's on the Bloomberg Terminal.
LEARN MORE