pursuits
Cities Vie to Host the Museum of the Star Wars Mastermind
By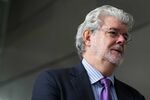 Star Wars mastermind George Lucas is planning to build a museum that will house his $1 billion collection of artwork and filmmaking memorabilia. The question is where: San Francisco or Chicago. Both cities are vying for Lucas's approval, and everyone from Rahm Emanuel to MC Hammer is weighing in.
As planned, the Lucas Cultural Arts Museum will display illustrations, comics, digital art, film memorabilia, and more. "I'm a storyteller at heart, and I understand the power of a visual image to tell a story," writes Lucas on the institution's website. "I know how works of art can ignite children's imaginations and even change their lives. They changed mine." The movie mogul expects to invest $700 million in the museum.
Originally, Lucas wanted to build the 95,000-square-foot museum in his hometown, San Francisco, on eight acres in the Presidio national park. Despite strong support from Silicon Valley heavyweights, including Sheryl Sandberg, Reed Hastings, Eric Schmidt, and Sean Parker, the plan was rejected in February. The trust overseeing the land deemed the building inappropriate and "too big."
That's when Lucas began eyeing the Windy City, where he lives part time with his wife, Mellody Hobson, a Chicago native. Mayor Emanuel quickly assembled a task force to recommend enticing building sites. Local storm troopers also got behind the cause. "Chicago-area members of the 501st Legion—a 6,600-member international organization of Star Wars fans who dress in the white body armor of the Galactic Empire—are hoping to make a show of force Wednesday at a public hearing of Mayor Rahm Emanuel's Lucas Museum Task Force," reported the Chicago Tribune in April.
On Monday, the Chicago Sun-Times reported that Chicago's task force has suggested the cultural institution be built on what is now a parking lot on the city's museum campus, which already includes the Field Museum, Shedd Aquarium, and Adler Planetarium. The site is just south of Chicago's iconic Soldier Field.
Meanwhile, San Francisco Mayor Ed Lee has promised to find a new site for the museum in his city, saying, "I will not let go easily of such a significant private investment by one of the world's most prominent filmmakers."
Before it's here, it's on the Bloomberg Terminal.
LEARN MORE