Bentley to Range Rover Bring Back Seat to Fore for Driven Buyers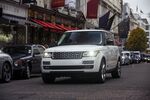 Born to be driven, you say? Some people are, billionaire babies whisked by Rolls-Royce Phantom from the private hospital room to a 45th-story penthouse.
Others simply yearn for the experience. Being chauffeured means you can legally text to your heart's content, canoodle with a significant other or kick your feet up and snore. (One wonders why Hollywood celebrities whose mug shots regularly appear on TMZ don't hire full-time drivers to ferry them home after a night of clubbing.)
Still, the service of full-time chauffeurs seemed all but dead until this decade, when the Chinese affluent exerted great influence on foreign automakers. The powerful like to be driven, and Volkswagen AG's Audi, an early seller of luxury cars in China, took advantage by introducing a long-wheelbase version of the A4 sedan specifically for the market. Black sedans became a fixture among the influential.
But no matter the geographical location, some power brokers believe that bigger and brasher is better. Small wonder that luxury makers are rushing to produce cars with backs seats the size of the sea.
The British have long specialized in this kind of thing, and so have the Germans. A long-wheelbase S-Class from Daimler AG's Mercedes-Benz is the equivalent of a dark gray suit -- always appropriate and respected.
New Wave
Prepare for a wave of new entrants. Volkswagen's Porsche, whose fans became apoplectic at the release of a sport-utility vehicle a few years ago, is now introducing a long-wheelbase model of the four-door Panamera. The extra 5.9 inches (15 centimeters) run an extra $20,000 and up.
Speaking of SUVs -- a category once considered declasse -- Bentley will release one, Lamborghini has teased a concept and even Rolls-Royce is hinting at the possibility.
So what vehicle would you turn to if you wanted to tap away at your iPad during the daily commute?
Last year, Volkswagen's Bentley released an all-new Flying Spur, a $200,000 sedan that blurs the line between old-world pomp and nouveau-riche romp. At 17.3 feet long, with wide fenders and an upright faux-chrome grille, it's a car with European swagger.
I recently spent a week with one, playing with the reclining rear seats (a killer app if there ever was one) and tapping the power of the 6-liter twin-turbo W-12 (a case of overkill if there ever was one).
With options and the $2,600 gas guzzler tax, my test model came to $230,665. In China, a comparable car would run about $650,000 including import taxes.
Porpoise Leather
Clad in Glacier White paint and Porpoise interior leather (dark gray, as it turns out, and no marine animals harmed), it was notably handsome. The exquisite wood paneling would be appropriate on Louis XIV furniture. Even the ceiling is hide-covered.
The back seats can be configured to fit either two or three passengers. Bentley says there is 3.5 feet of legroom, which translates to a comfortable sprawl, if not the equivalent of a fully reclining, first-class seat on Emirates airline.
There's a slick remote control that manages the twin TV screens, navigation system and stereo. Wi-Fi is available and so is a small refrigerator. ("Actually, I do have Grey Poupon back here.") All of the seats are infinitely configurable, though not quite as couch-comfortable as I'd hoped.
Hulking Motor
Pleasures aren't confined to the rear. The hulking motor has a ludicrous 616 horsepower and 590 pound-feet of torque. Consider that the car weighs more than 5,400 pounds (2,470 kilograms), yet can warp to 60 miles per hour in 4.3 seconds, quicker than an old Lamborghini. Bentley says the top speed is 200 mph. Will you go that fast? No, but you can brag that you could -- given the world's longest road.
The eight-speed ZF transmission works silkily through gears, managing the engine's potency with the ease of a talented director. The steering is true and the ride supple even over potholes.
One complaint: The brake pedal was oddly spongy in the car I drove, an unwelcome feeling in a vehicle so heavy and powerful.
The traditional-minded Bentley made a nice counterpoint to another British back-seat contender I tested concurrently, a long-wheelbase version of the Range Rover, from Tata Motors Ltd.'s Land Rover.
The long-wheelbase Range Rover has a base price of $106,225. My tester, an upgrade version, came to $145,435, big money for a Land Rover product.
The extended wheelbase will gain you an extra 7.3 inches of rear legroom and the derision of any Land Rover purists who still exist.
Agrarian Nature
After all, old Range Rovers are far more agrarian in nature, more like tractors than trucks. Their claim to fame was the ability to go most anywhere, overcoming boulders and mountains, even if the ride was terribly rough.
Now they signal new money from Miami to Greenwich. And as such, the long-wheelbase Range has no direct competitors in the prestige SUV market. And if you really want to make sure your Range isn't confused with General Motors Co.'s Cadillac Escalade (as if), the company has an Engineered to Order personalization program, akin to Bentley or Rolls-Royce, and an even more expensive long-wheelbase package, the limited-edition Autobiography Black, which starts at $185,000.
The new-generation Range is significantly less boxy, with sleeker proportions, less side glass and headlamps that curl around curved front fenders. Even the Pirelli & C. SpA tires on my test model were less knobby than expected, better suited to fast, dry highways than snow or rocks.
Authoritative Presence
The new generation is too sleek for my tastes, but it wasn't until I observed the long-wheelbase in my driveway that I appreciated how the change in proportions has allowed the long-wheelbase to exist. I expected a louche travesty. Yet, outfitted in all black, the long rear doors were well masked and the truck looked good. It certainly has presence -- an authoritative, vaguely menacing one.
It's the kind of vehicle in which you might illegally idle in front of a swank hotel or restaurant and nobody will bother you. There's an assumption, even by the kind of authorities who should be shooing you away, that you belong. Better not to bother that big black SUV and whoever might be in it.
The Range's front leather-bound seats are stupidly comfortable, the headrests better than most pillows. So too goes the back. You can choose a bench seat that fits three and doesn't recline, or individual chairs that do. Either way, place the front passenger seat as far forward as it will go, and even Shaquille O'Neal would be well satisfied.
Sight Lines
While the materials are not of the same grade as on the Bentley, I preferred the Range's rear seating position. The roof is tall and the seating position high. You can see over the driver's head and sight lines are good.
Even the Rolls-Royce Phantom, a car that epitomizes the chauffeur experience, is hard to see out of. For some, perhaps, privacy trumps sightseeing.
The Range Rover's extra length limits its off-road abilities -- not that anyone will care. The extra inches in the wheelbase made the ride more stable, and there's little sideways sway for such a tall vehicle.
I expected to scoff at the long-wheelbase Range, but came away -- begrudgingly -- liking it. After all, I quite enjoyed the boxy, farmlike nature of the old Range Rovers.
But then, I wasn't born to be driven.
The Bentley Flying Spur Mulliner at a Glance
Engine: 6-liter twin-turbo W-12 with 616 horsepower and 590 pound-feet of torque.
Transmission: Eight-speed automatic.
Gas mileage per gallon: 12 city, 20 highway.
Price as tested: $230,665.
The Range Rover Autobiography Long-Wheelbase at a Glance
Engine: 5-liter supercharged V-8 with 510 horsepower and 461 pound-feet of torque.
Transmission: Eight-speed automatic.
Gas mileage per gallon: 14 city, 19 highway.
Price as tested: $145,435.
(Jason H. Harper writes about autos for Bloomberg News. The opinions expressed are his own.)
Before it's here, it's on the Bloomberg Terminal.
LEARN MORE