After Showdown With Prosecutors, Airbnb Gives Up Customer Data
By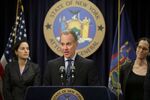 That's one way to participate in the sharing economy. Following months of vocal resistance, Airbnb announced Wednesday that the room-sharing startup has agreed to share data on thousands of New York users with the state's attorney general. The San Francisco company will partially anonymize the data it shares on its users.
New York Attorney General Eric Schneiderman has been seeking information from the company since last fall as part of his investigation into how many Airbnb users violate state laws. There is no doubt that at least some New Yorkers use the website to rent out residential spaces for short periods, in an apparent violation of rules for landlords and hotels. The information subpoenaed by state prosectors is meant to reveal the extent of the problem.
Airbnb has acknowledged all along that some of its New York hosts were abusing the system and went so far in April as to purge from the website 2,000 users who has listed multiple units. Until Wednesday's agreement, however, Airbnb had refused to turn over any user information, framing its resistance as a principled stand on behalf of user privacy and against government overreach. According to the agreement (pdf), Airbnb will redact users' names, Social Security numbers, e-mail addresses, and apartment numbers.
New York City's powerful hotel industry has sized up Airbnb's incursion in its multibillion-dollar market with growing concern. And while the compromise will end the company's legal skirmishes on one front, it will hardly settle the larger war over Airbnb's contested future in New York.
A much more important battle to watch for its long-term outcome is the 2010 state law that prohibits New Yorkers from renting out space in residential buildings for less than 30 days unless a permanent resident is present. All along, the law has threatened to undermine Airbnb's rapid expansion. With the help of the lobbying firm Bolton-St. Johns, Airbnb has been working hard in recent months to change the law in the company's favor.
In the wake of Wednesday's compromise, Airbnb will now likely face a new challenge: mollifying consumers who are upset by the decision to hand over customer data. Nobody ever said making it in New York was easy.
Before it's here, it's on the Bloomberg Terminal.
LEARN MORE