A Modest Proposal: Luxury Tax for Business Schools
Ira Sager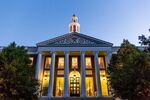 Imagine the melancholy that descended upon small-market business schools after they discovered Yale had constructed a replica of the starship Enterprise for its students. Or the soul-crushing realization that Kellogg MBAs would enjoy "dramatic vistas" of Lake Michigan and the Chicago skyline as they glided through the "open spaces" of a new abode. As if these images weren't painful enough for our struggling institutions of higher business education, Harvard Business School has been practicing capitalism at its typically elite level—working to amass a $1 billion endowment.
Powerhouses such as Columbia Business School (trying to scrape together a mere $500 million) and Kellogg (struggling for a piffling $350 million) can't even touch the money machine in Boston. How are institutions in smaller markets to compete against business schools able to spend prodigious sums to stockpile resources and talent?
Most reasonable parties will agree that the business of educating our future titans of industry is in a grievous state. Small institutions simply can't compete with well-endowed B-schools. They are starving for funds, students, and professors.
There is, of course, a modest solution: a luxury tax on business schools. Set an endowment cap—maybe a ceiling on faculty salaries, too—and then "tax" schools that exceed the agreed-upon figure, say, $189 million for the 2014-15 school year. The amount of the tax, a percentage of the overage starting at 20 points, should increase every year a school remains over the limit to discourage any single institution from grossly outspending the competition year after year. (Behavioral economists should be cheering right about now—unless they're at HBS.)
The Association to Advance Collegiate Schools of Business can monitor and administer this luxury tax. They are, after all, the organization that has helped create a glut of business schools by wantonly accrediting so many institutions. The AACSB can see to it that the sums collected are evenly distributed to needy B-schools across the U.S.
To those who say this is nothing more than a blatant rip-off of baseball's luxury tax, please listen to Picasso: "Good artists copy, great artists steal." And judging from business education curricula, those are words most schools live by. (So do most media outlets, by the way.)
If you've been holding your breath for disruptive Internet technology like online MBAs and massively open online courses to correct the industry's imbalances, please exhale right now. After the Federal Communications Commission's latest ruling, net neutrality is a quaint bygone notion. In the online education race, schools such as HBS can use their endowed wealth to snap up all the fast-lane network capacity. The less fortunate (read: poorer) institutions will be forced "down market," pitching their virtual courses to "base of pyramid" customers—you know, those people still using AOL for e-mail.
Of course, we can simply dismiss what's happening as market efficiencies at work. Laissez faire rules, right? So what if HBS can afford, along with fresh sushi for every student, to install an espresso machine every 10 yards throughout the school. Not what you'll find at your local Starbucks, mind you. These machines can render the image of any U.S. Treasury secretary in the crema. (Hamilton is the most requested.) At least HBS hasn't signed the best baristas to long-term teaching deals—yet.