Why Visa and MasterCard May Say 'Do Svidanya' to Russia
By
A sanctions showdown between Moscow and Washington could soon produce its first major U.S. casualties. Visa and MasterCard may pull out of Russia because a new law there would require them to pay steep fees to continue operating in the country.
The legislation, enacted after Visa and MasterCard stopped processing payments at four Russian banks hit by U.S. sanctions earlier this year, would force the card companies to keep hundreds of millions of dollars in collateral on deposit at Russia's central bank. The money could be forfeited if they suspend services in the future.
Russia's demands "go beyond what we'd be willing to do," Visa Chief Executive Officer Charlie Scharf said on May 19 at an investor conference in Boston. Scharf and MasterCard CEO Ajay Banga said at the conference that they are seeking changes to the legislation before it takes effect on July 1. "I would hope that we get to a different conclusion than to get to July 1 and just say, 'We're not willing to participate,'" Scharf said.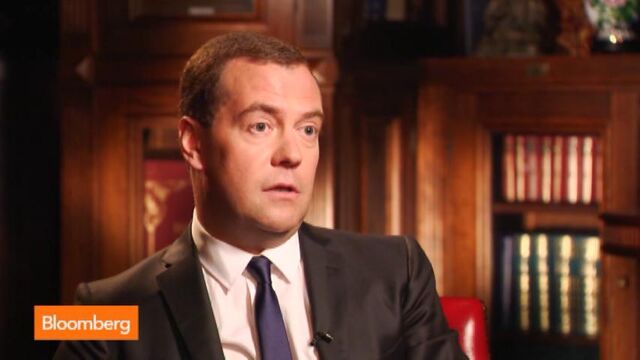 In a May 19 interview with Bloomberg Television, Prime Minister Dmitry Medvedev said he didn't want the card giants to leave Russia. But, he said, "what Visa and MasterCard did [in halting service at some banks] was a direct violation of their contracts with Russian clients." Visa and MasterCard account for 90 percent of card transactions in the country, according to Bloomberg BNA.
Russia has demanded "hundreds of millions" in collateral from Visa, which generates annual revenues of about $471 million in the country, analyst Smittipon Srethapramote of Morgan Stanley wrote in a note to clients on May 20, citing company estimates. MasterCard, which has about $167 million in Russian revenue, has been told to put up collateral in the "low hundreds of millions," he said.
"It's not just the fees that they have to pay, it's that it potentially sets a precedent," Srethapramote told Bloomberg News. The new rules could compromise the card companies' prospects in China and other emerging markets. Although quitting Russia would be painful for Visa and MasterCard, the companies could absorb the hit without severe damage, Srethapramote says. Russia accounts for 3 percent to 4 percent of Visa's annual revenue and about 2 percent of MasterCard's.
Besides requiring collateral from the two card companies, the new law calls for Russia to set up its own payment system, which would be used for government salaries, pensions, and other state benefits.
Before it's here, it's on the Bloomberg Terminal.
LEARN MORE