The Tea Party Will Lose Big Tonight, but That Doesn't Mean Big Business Is Winning
By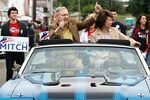 Six states hold their party primaries today, making it the unofficial "Super Tuesday" of the congressional primary season. Establishment Republicans look like they'll have plenty to celebrate when the polls close this evening. That's because, unlike in the past two elections, no major Republican candidate appears to be in danger of being upset by a Tea Party upstart. And that, in turn, will give the GOP its best chance in years of winning back the Senate, a change of pace from the menagerie of Tea Partiers such as Christine O'Donnell, Todd Akin, and Sharron Angle, who have consistently blown the party's chances over the last four years.
In fact, establishment Republicans have done such a good job—finally—of sidelining Tea Party rivals that there isn't much drama about how the Super Tuesday primaries will unfold. In Idaho, Representative Mike Simpson appears to have a solid hold on his seat, so much so that the Club for Growth pulled out weeks ago and stopped running TV ads on behalf of his Tea Party challenger. In Georgia, the two Tea Party candidates whom GOP leaders had feared, Representatives Paul Broun and Phil Gingrey, seem set to finish fourth and fifth in a five-person primary. And in the evening's marquee race, Senate Minority Leader Mitch McConnell looks set to trounce his hapless Tea Party challenger, bell magnate and suspected cockfighting supporter Matt Bevin.
It's tempting to frame this as Big Business triumphing over the Tea Party. That's what a number of cable stations have been doing today, including an esteemed financial channel I just appeared on. But I think it's more accurate to characterize this development as Republicans learning how not to shoot themselves in the foot with an elephant gun. The "Big Business triumphs" storyline will be valid only when the Republican Party manages to unite behind actual policies—demand-boosting measures, comprehensive immigration reform—that the business community is calling for. There's no sign that's happening, regardless of how many Tea Party candidates go down tonight.
Before it's here, it's on the Bloomberg Terminal.
LEARN MORE