Charting 98 Years of Growth in the B-School Industrial Complex
by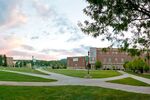 Congratulations to Black Hills State University, of Spearfish, S.D., SolBridge International School of Business, in Daejeon, South Korea, and the BI Norwegian Business School, with campuses across Norway. Those schools and 14 others received accreditation from the Association to Advance Collegiate Schools of Business, according to an announcement issued on May 12.
What that means, practically speaking, is that 17 additional schools can tell prospective students and faculty members that they belong to a relatively exclusive club. To gain accreditation, the institutions go through a years-long process to demonstrate that they meet certain financial, academic, and mission-based standards. The AACSB accredits 711 business schools, less than 5 percent of the worldwide total.
It's worth pointing out that lots of business schools don't apply for accreditation. While AACSB is arguably the most prominent accrediting organization for U.S. business schools, others—including London-based Association of MBAs, and Brussels-based European Quality Improvement System—are more relevant for many universities abroad.
Despite its small piece of global pie, the increasing ranks of AACSB-accredited schools is a "reasonable proxy" for interest in management education in recent decades, says Robert Reid, chief accreditation officer at the nonprofit organization and a former dean of James Madison University's College of Business.

As you can see from the chart above, there's been sharp increase in the number of schools with AACSB accreditation over the past two decades. A lot of that growth has come from schools outside of the U.S.:

It's also worth noting that powerful trends are working against new entrants. Online education and changing demographics have led to speculation that plenty of U.S. business schools could fail in coming years—and that schools lacking longstanding reputations are most vulnerable. That message doesn't appear to be causing schools to give up on accreditation yet.
Before it's here, it's on the Bloomberg Terminal.
LEARN MORE