Staples Feeds the Bears
By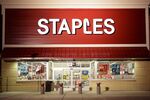 Staples gave short sellers the bad news they were hoping to hear this morning, reporting weak first-quarter results and weaker guidance about future performance as the office supply chain struggles with a turnaround plan. This delighted the short sellers, who borrow shares, sell them, and look for a price decline so they can buy them back at a lower price and pocket the difference.
Staples has become the seventh-most-shorted stock in the Standard & Poor's 500-stock index, Bloomberg reported yesterday, citing Markit data. Bearish bets have surged since August, when Staples announced second-quarter results that missed estimates by nearly 12 percent:

The shares fell in pre-market trading by as much as 12 percent after Staples said its profit next quarter would probably be lower than had been expected.
"We're making progress meeting the changing needs of our customers as we reinvent Staples," said Chief Executive Officer Ron Sargent in a statement. The chain is closing 225 stores this year.
As of May 16, Staples had the second-largest gap between its stock price and analysts' 12-month forecasts for any S&P 500 company. The figure stood at negative 14.6 percent, indicating that Wall Street expects the shares to fall further. Just two of 21 analysts tracked by Bloomberg rate Staples a buy; 17 of them recommend a hold.