Senate's Levin Seeks Limits on Corporate Inversion Deals
Richard Rubin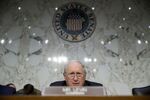 U.S. companies would face strict limits on mergers in which they move their tax address outside the U.S. under a bill proposed today by Senator Carl Levin, a Michigan Democrat.
Under Levin's plan, U.S. companies trying to buy a foreign company and relocate their headquarters to a lower-tax country would have to ensure that shareholders of the non-U.S. company own at least 50 percent of the combined company, up from 20 percent now. The plan, which lacks Republican support, is unlikely to become law any time soon.
The bill would consider inverted companies to be domestic for U.S. tax purposes if executive control remains in the U.S. and if 25 percent of sales, employees or assets remain in the U.S. The measure would be retroactive to May 8 and be in place for two years while Congress considers broader tax-code changes.
"You've got to stop the bleeding," Levin told reporters in the Capitol today. "Any company that seeks to invert from this point on is taking the risk that a bill that is passed would prevent them from benefiting."
Levin is responding to 14 companies that have conducted mergers since 2011 in which they moved headquarters outside the U.S. and into a lower-tax jurisdiction. Other companies, including Pfizer Inc. with its proposed purchase of AstraZeneca Plc, have contemplated such transactions.
Iceberg's Tip
The Pfizer offer put inversion deals in the spotlight and spurred Levin and other lawmakers to search for a way to prevent the erosion of the U.S. corporate tax base.
"The Pfizer deal in some ways is just the tip of the iceberg," Levin said.
His bill, cosponsored by 13 other members of the Senate Democratic caucus, stands little chance of becoming law in part because Republicans, who control the House, say any changes must be considered only as part of a broader revamp of the individual and corporate tax codes.
"We bear some of the responsibility in forcing companies to actually take steps like this because it's too expensive for them to bring those earnings back here," House Speaker John Boehner, an Ohio Republican, said today. "And so fixing that is, frankly, a big priority of ours."
Levin's two-year bill is a "workaround" that attempts to address lawmakers' preference for considering inversions as part of a broader tax bill, Height Analytics analyst Henrietta Treyz said in an e-mail.
Highest Rate
Senate Finance Committee Chairman Ron Wyden, an Oregon Democrat, said he wants to limit inversions as part of a plan that would lower the U.S. corporate tax rate, which at 35 percent is the industrialized world's highest.
Wyden chose the May 8 date to warn companies about a potentially retroactive bill, mirroring what lawmakers did with inversion legislation a decade ago when more than a year passed between announcing the date and enacting legislation. Wyden publicized the date in a May 9 Wall Street Journal op-ed piece.
"With respect to this inversion matter we ought to in effect freeze the linebackers, as sometimes it's described in tax lingo," Wyden said on Bloomberg Television May 15.
Levin's bill mirrors a proposal from President Barack Obama that would increase tax collections by $17 billion over the next decade.
Republican 'Resistance'
"We need to reform our tax code in a way that it makes investment in the United States attractive," White House Press Secretary Jay Carney said, without taking a direct position on Levin's legislation. "Unfortunately we've had a lot of resistance to that from Republicans."
Companies considering inversions will have to gauge the likelihood of the bill's passage, either as a stand-alone item or as part of other legislation.
"It would actually make the situation worse and could lead to even more jobs and businesses leaving America," said a statement from the Alliance for Competitive Taxation, a group of companies and business associations that includes Pfizer, General Electric Co. and PepsiCo Inc.
Because his bill is temporary, Levin said it would raise less money than the administration plan. He said the Treasury Department generally supports his approach with some disagreement about the details of the managed-and-controlled test.
Those limits on companies whose executives remain in the U.S. wouldn't apply to corporations such as Eaton Corp. that have already completed deals, Levin said.
Treating 'Fairly'
"Notice is important to people in terms of treating people fairly," Levin said.
Levin, 79, is chairman of the Senate's Permanent Subcommittee on Investigations and has released reports on offshore tax avoidance by companies such as Apple Inc., Microsoft Corp. and Caterpillar Inc. He isn't seeking re-election this year.
Representative Sander Levin of Michigan, Carl Levin's brother and the top Democrat on the House Ways and Means Committee, is introducing a similar bill. The biggest difference between the two measures is that the House bill isn't limited to two years.
The House bill is H.R. 4679. The Senate bill hasn't been filed yet.
Separately, Representative Rosa DeLauro, a Connecticut Democrat, is working on a bill that would prevent inverted companies from winning contracts from U.S. federal agencies.
Before it's here, it's on the Bloomberg Terminal.
LEARN MORE