Resona Sees Fivefold Corporate Loan Growth as Japan Recovers
Monami Yui and Shingo Kawamoto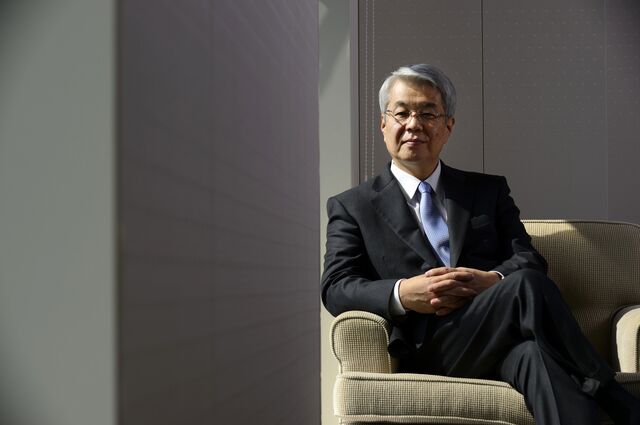 Resona Holdings Inc. is targeting a fivefold increase in corporate loans this year, signaling Japan's fifth-biggest bank is confident that the economic recovery is strong enough to spur business spending.
Resona plans to increase loans to companies by 300 billion yen ($3 billion) in the year ending March 2015, compared with 60 billion yen in the previous fiscal year, President Kazuhiro Higashi said in an interview in Tokyo last week.
Japanese machinery orders, an indicator of future corporate investment, jumped the most since 1996 in March, government figures showed this week. Higashi, 57, said his bank needs to boost credit volume to make up for a decline in lending profitability as monetary policies to stimulate the world's third-largest economy drag down interest rates.
"We believe that funding demand for capital spending will emerge from small and medium-sized corporates, which are lagging behind larger businesses," Higashi said. "We need to be patient for the next couple of years before interest rates rise and we fully benefit from the economic recovery."
Resona will use its expertise in real estate and trust banking to examine corporate demand for land and factory equipment, he said.
Machine orders rose 19.1 percent in March from a month earlier and companies forecast they will climb for a fifth straight quarter, the Cabinet Office said on May 19. Japan's economy grew an annualized 5.9 percent in the first quarter, faster than economists expected, as companies stepped up investment and consumers splurged before a sales-tax increase.
Small Businesses
Resona is also bolstering services, including loans, for small businesses whose owners are seeking to hand over control to younger generations. In January, the bank set up a private-banking department with 200 employees to provide succession services to small companies, Higashi said.
Shares of Resona rose 0.8 percent to 511 yen at the midday break in Tokyo, paring this year's drop to 4.7 percent. The benchmark Nikkei 225 Stock Average slipped 0.3 this morning and has fallen 14 percent in 2014.
Loans at Japan's biggest banks have been rising since December 2012, when Shinzo Abe became prime minister on a platform of spurring the economy with fiscal spending and monetary easing.
Resona said this month that its total loans, including mortgages, will increase by 650 billion yen in the year ending March 2015. That's more than the 540 billion yen in credit added a year earlier.
Rate Squeeze
Still, government bond purchases by the Bank of Japan have crimped interest rates. The average rate on new loans at domestic banks slid to a record 0.808 percent in February, BOJ figures show. Net interest margins for the 87 lenders in the Topix Banks Index are 1.25 percent on average, the least in Asia, according to data compiled by Bloomberg. The central bank kept its policy unchanged at a board meeting that ended today.
Resona's net income declined 20 percent to 220.6 billion yen in the year ended March, the bank said on May 13. Profit may fall 32 percent to 150 billion yen in the current fiscal year, it said.
"We need to find new clients" to achieve the corporate lending target, said Higashi. "It'll require a quite lot of effort."
Before it's here, it's on the Bloomberg Terminal.
LEARN MORE