Home Depot Finally Bids Farewell to Fax Machines
by
The harsh winter was far from ideal for home improvement retailers such as Home Depot. Increased sales of snow blowers, shovels, and salt can't offset declines in demand for windows, roof shingles, and paint.
Even indoor renovations are made challenging by a deep freeze. "It's really difficult to lay carpet when you have snow on the driveway," Craig Menear, president of U.S. retail for Home Depot, said in a conference call on Tuesday morning.
Still, Home Depot had a secret weapon to keep all the snow from swamping its supply chain: electronic messages. You know, "e-mail."  The company said it has now stopped faxing orders to vendors, essentially putting its operations from 1992 to the present in a time machine and zipping them. It was a startling moment of candor and a valuable window into the retail world at this moment. Every company with a brick-and-mortar footprint is striving for so-called omni-channel capabilities, leveraging deliveries and supply-chain software to let customers get things however and wherever they want.
Home Depot likened each of its stores to a brain, capable of keeping track of everything going on in the extended corporate body, thanks to a new order-management system. That's nifty, but for every bit of gee-whiz capability, there's typically lower-hanging technological fruit.
The fax machines are a case in point. If you are going to run an omni-channel operation, returns are going to ride on how efficiently the organization can source and shuttle product around its network. Annoying beeps, dial-up tones, and checking the machine after a few minutes to be sure the fax went through just aren't part of a modern operation. "Obviously, there used to be a lot of opportunity for error, so we've eliminated those faxes … and really kind of started to streamline how those orders flow," Home Depot Chief Information Officer Matt Carey said on the conference call.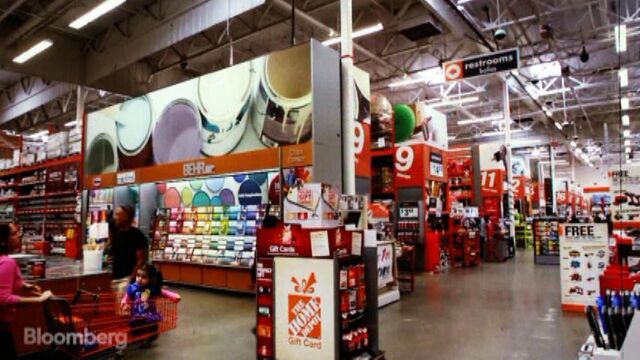 The souped up supply-chain helped Home Depot keep its inventory relatively lean as sales slowed down in the Northeast and sped up in the South and the West. Company-wide, sales were up 2.9 percent to $19.7 billion. That was worse than expected, but Home Depot managed to tick profit up 12.5 percent, to $1.4 billion.
Lowe's, which will unveil its most recent earnings on Wednesday, is using satellites to count cars in its parking lots and better sync store staffing with customer traffic. If only there were some magic way of forecasting weather.
Before it's here, it's on the Bloomberg Terminal.
LEARN MORE