Credit Suisse's Guilty Plea Gives the U.S. Government a Fall Guy
By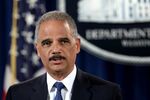 Finally! Americans have a bank that admits to bad behavior—even if the bank is Swiss and the behavior has nothing to do with the financial crisis.
With Credit Suisse admission on Monday that it is guilty of having helped U.S. clients dodge taxes, the Justice Department can say it's holding banks accountable. As Attorney General Eric Holder said at the press conference: "This case shows that no financial institution, no matter its size or global reach, is above the law."
In some ways, Credit Suisse is a curious poster child for wrongdoing. While its crime is an easy one to understand—everyone is supposed to pay taxes—it is being held accountable for behavior that long predates the financial crisis. The U.S. is the only developed country that taxes worldwide earnings, no matter where you reside. That means Swiss accounts that are legal for citizens of other nations can be a form of tax evasion for Americans.
The Internal Revenue Service has also tried to crack down on tax havens, shell companies, and offshore accounts that make it easy to hide income. As part of the Credit Suisse plea, the bank will provide information about fund transfers, which may open the trail to such other tax havens as Luxembourg and the Cayman Islands. Similarly, it's put more focus on legal forms of tax avoidance via loopholes, offshore operations, and other tools.
While Credit Suisse made it easy for rich clients to evade taxes, it's hardly worse than UBS, which had a staffer stash a client's diamonds in a toothpaste tube to get them past the IRS. That staffer, Bradley Birkenfeld, ended up getting $104 million from the IRS for revealing his former employer's methods as part of a whistleblower program. Birkenfeld may have unwittingly done his old company a favor, though. Having come out of the gate in 2007 with allegations, he prompted UBS to settle two years later for the relative bargain price of $780 million—with no admission of guilt. UBS even gave the IRS the names of 4,450 U.S. clients using its Swiss accounts amid that state of innocence.
Not so for Credit Suisse, which refused to hand over client accounts, largely because that would have breached Swiss law. A U.S. Senate report earlier this year stepped up the pressure by accusing the Justice Department of not doing enough to crack down on the problem. And the case is being settled just when the public is complaining that banks weren't held accountable for the financial crisis. In many cases, those who deployed dodgy derivatives or hyped toxic mortgages are still doing business. Others have avoided criminal pleas: JPMorgan can pay a fine of $13 billion without admitting guilt, and HSBC can pay $1.9 billion to settle money-laundering charges and move on. Public anger over income inequality and the unfair privileges of being rich are prominent.
That doesn't condone Credit Suisse's behavior. The shadowy world of Swiss banks and offshore havens has been an issue in many circles for years. It's illegal for Americans to use them for these kinds of clandestine, cross-border transactions. But none of this is about the kind of greed and leverage and self-dealing that brought the financial system to its knees. Some of the behavior chronicled in the government's case against Credit Suisse dates back decades.
For politicians, though, the timing is perfect. At a time when bank fines can feel like highway tolls and bank executives can seem oddly immune to the consequences of dubious behavior, regulators can now hold up a scalp.
Before it's here, it's on the Bloomberg Terminal.
LEARN MORE