Big Mac Bulls Savoring McDonald's Shares for Buybacks: Options
Joseph Ciolli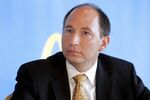 McDonald's Corp. is enticing equity investors with the prospect of bigger dividends and buybacks, and options traders are digging it.
The shares have rallied 7.2 percent since early March when Chief Financial Officer Pete Bensen said the company may look to borrow money to repurchase stock. Bullish bets are more expensive than bearish ones for the first time ever, according to data on three-month contracts compiled by Bloomberg. Calls make up the eight contracts with the highest ownership.
McDonald's shares have also benefited in the past two months from a market-wide shift away from companies with high valuations to more stable businesses that pay dividends. Bensen, responding to a question about whether the company could raise its buyback goal, said on March 11 that McDonald's capital structure "can probably get more aggressive" without jeopardizing its credit rating.
The company is "revealing new levers it can pull to reward shareholders," Timothy Hoyle, director of research at Radnor, Pennsylvania-based Haverford Investments, said in a May 13 phone interview. His firm oversees about $6 billion, including McDonald's shares. "There's been a change in sentiment towards the stock."
Calls betting on a 10 percent increase in McDonald's shares cost 0.59 point more than puts protecting against a similar drop, three-month contracts show. In the past three years, the calls have been an average of 4.55 points cheaper than puts, data compiled by Bloomberg show.
Beating Starbucks
Becca Hary, a spokeswoman for the Oak Brook, Illinois-based company, didn't respond to two voicemail messages seeking comment on the company's options.
McDonald's fell 1 percent yesterday to $102.09. The shares are up 5.2 percent this year, more than twice the return for the Standard & Poor's 500 Index. Smaller competitors, such as Darden Restaurants Inc., Starbucks Corp. and Chipotle Mexican Grill Inc., have lost more than 5 percent in 2014.
"We've seen a rotation out of the more risky consumer discretionary names into names that are generally considered to be safer, and which pay a strong dividend," R.J. Hottovy, an analyst with Morningstar Inc. in Chicago who recommends holding the shares, said in a May 14 phone interview. "McDonald's has been part of the story, and we think we'll continue to see that rotation."
Attracting Customers
McDonald's will have to find new ways to attract customers amid rising competition if it wants to see the shares increase in the long term, according to analyst Jack Russo of Edward Jones & Co. U.S. same-store sales were little changed in April, the company said on May 8.
"Their core business has struggled a little bit," Russo said in a May 14 phone interview from St. Louis. "Same-store sales have been fairly soft. That's weighed on the stock a little bit, and they have to fight through that."
An overseas expansion of franchised restaurants could provide profit growth, according to Hoyle of Haverford Investments. Just 12 percent of the company's Chinese locations were owned by franchisees at the end of 2013, a number that they would like to increase to around 25 percent by 2015, Bensen said in his March 11 comments.
McDonald's, which has paid uninterrupted dividends on its stock since at least 1977, had a record $3.11 billion in dividends and $1.81 billion of buybacks last year. That combined payout exceeded the $4.3 billion of free cash produced in the same period, data compiled by Bloomberg show.
Quarterly Dividend
That kind of consistency can attract investors looking for a haven when the broader market is falling. The U.S. stock market will be volatile because shares of small companies are still too expensive and equities tend to decline before midterm elections, according to Jim Russell, a senior equity strategist at U.S. Bank Wealth Management.
Owners of McDonald's stock get a quarterly cash dividend of 81 cents per share, a 12-month yield of 3.1 percent. That exceeds the 2 percent payout for the S&P 500, data compiled by Bloomberg show.
"If you think volatility is likely to increase over the summer, owning McDonald's stock is a pretty good solution," Matt McCormick said in a May 14 phone interview. He helps oversee $11 billion as a portfolio manager at Cincinnati, Ohio-based Bahl & Gaynor Inc., which owns McDonald's shares. "People have to eat."
Before it's here, it's on the Bloomberg Terminal.
LEARN MORE