Thai Stocks Drop Most in Two Weeks on Martial Law as Baht Slips
Anuchit Nguyen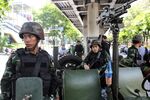 Thai stocks fell, sending the benchmark index to its biggest drop in almost two weeks, as the army imposed martial law nationwide amid political turmoil. The baht and government bonds retreated.
The SET Index lost 1.1 percent to 1,394.69, the biggest decline since May 8. The baht weakened 0.2 percent to 32.537 per dollar, while the yield on 10-year bonds rose four basis points to 3.76 percent. Five-year credit-default swaps added two basis points to 129, CMA prices show.
The army acted a day after government data showed gross domestic product shrank 0.6 percent in the first three months of 2014 compared with a year earlier. The move is not a coup and people should not be concerned, Army Chief Prayuth Chan-Ocha said on local television, asking political groups to end protests that began in November and led to Yingluck Shinawatra's ouster as elected leader.
"Some foreign investors will dislike the martial law because it shows the situation is out of hand," Prapas Tonpibulsak, chief investment officer at Krungsri Asset Management Co., which oversees about $7 billion, said by phone. "The military's intervention may force politicians to be more willing to go to the negotiating table now."
The baht pared a retreat of as much as 0.6 percent amid suspected intervention by the central bank, according to Kozo Hasegawa, a currency trader at Sumitomo Mitsui Banking Corp.
Army's Role
The banking system and financial markets functioned normally today, Bank of Thailand spokeswoman Roong Mallikamas wrote in a message to journalists. She declined to comment when contacted by phone on whether the central bank intervened in the foreign-exchange market.
The army's latest move is its most direct involvement in politics since 2006, when then-premier Thaksin Shinawatra was removed in a coup. Martial law, already in place in parts of southern Thailand, was briefly declared for Bangkok in 2010 to quell anti-government protests when Abhisit Vejjajiva was prime minister.
"The imposition of martial law is not, in itself, negative for Thailand's ratings, although clearly we are keeping the situation under close review," Andrew Colquhoun, head of Asia-Pacific sovereigns at Fitch Ratings in Hong Kong, wrote in an e-mail today. "It may even help to break Thailand out of the political deadlock of the past six months."
Political Crisis
Anti-government protesters halted planned rallies today, including one in central Bangkok, to assess the army's decision, said Akanat Promphan, a spokesman for protest leader Suthep Thaugsuban.
Suthep's protesters derailed plans for a July 20 election and the army said previously it may use force to counter any escalation of violence. Yingluck was removed on May 7 after a court ruled she abused her power in office.
Thailand's "political crisis has dragged on for longer than expectations and relative to historical standards," Alan Richardson, whose Samsung Asean Equity Fund beat 96 percent of peers tracked by Bloomberg in the past five years, said in a phone interview from Hong Kong. "We can see that the political crisis has affected economic and corporate fundamentals since the start of this year."
Gross domestic product fell 0.6 percent in the first three months of 2014 compared with a year earlier, while the median forecast of economists surveyed by Bloomberg was for a 0.4 percent increase. The SET Index of shares may slide to 1,200 and the baht could weaken to 34 per dollar in the "short term," according to Richardson.
Before it's here, it's on the Bloomberg Terminal.
LEARN MORE