business
A Tablet Too Late: Microsoft's New Surface Greets a Slowing Market
By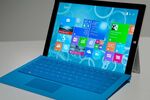 Microsoft has never been able to get its Surface to muster much excitement, even as tablets from its competitors were taking over the world. Now it's back with a new version of the Surface, and the challenge seems doubly difficult given that people appear to be losing their general enthusiasm for tablets.
Before Tuesday's product launch, Microsoft was rumored to be working on both a smaller and a larger version of the Surface. Smaller tablets have become increasingly popular and now make up more than half of tablet sales, according to market-research group IDC. But Microsoft decided instead to go after the big, untapped part of the market. The Surface Pro 3, introduced at an event in New York, has a 12-inch screen that invites comparisons to smaller laptops (such as Apple's 11-inch MacBook) rather than rival tablets (like Apple's iPad). Oversize tablets make up a little more than 1 percent of the market to date.
Microsoft representatives at Tuesday's event implicitly criticized the iPad, which remains the most popular tablet on the market, as a device that was good only for consuming content rather than doing real work. "Ninety-five percent of people who have an iPad also have a laptop," Yusuf Mehdi, a senior vice president for Microsoft, told Bloomberg TV. The company also explicitly pitched the new Surface as a laptop replacement, noting that it's thinner than the 11-inch MacBook Air.
This is nothing new: Every company making a tablet wants to take Apple down a notch. But considering the rapid growth of all the tablets on the market, there once seemed to be plenty of room for upstarts. That is, at least until recent months, as Apple sold 3 million fewer iPads than analysts had expected—an indication not of increased competition but of possible disinterest in tablets.
Behind the overall slowdown in the tablet market, analysts suggest, is the improving power and larger screens of smartphones. Earlier estimates of continuously rapid growth in the tablet market also seem to have been overly optimistic. It was once thought people would replace their tablets every two years, like they do with their phones, but tablets get replaced far less regularly. The entire tablet market grew 3.9 percent over the past year, IDC reported earlier this month.
While Microsoft describes its new tablet as something of a hybrid, it's hardly the first company to make such claims. Apple and Samsung Electronics, neither of which have gone down this route, still dominate the market. None of this means the Surface Pro 3 won't be the tablet that finally breaks the cycle of disappointment for Microsoft. But the challenges grow with each successive version.
Before it's here, it's on the Bloomberg Terminal.
LEARN MORE