With 3,000 More Locations, Subway Widens Its Lead Over McDonald's
by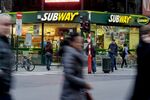 While burgers have long been the main staple of American fast food, $5 Footlongs are becoming more ubiquitous by the day. Subway, long the largest restaurant chain in number of outposts, will now have an even wider lead against rivals: On Monday, the company announced its intention to add 3,000 locations worldwide this year, expanding its footprint by 7 percent. It has already achieved about one-third of this goal, opening 973 new stores around the globe so far this year.
In 2013, Subway's more than 40,000 locations outstripped McDonald's 35,400 and Starbucks' 20,000. Yum's three brands combined—KFC, Pizza Hut, and Taco Bell—had about 40,300 locations. This year McDonald's plans to open 1,500 to 1,600 shops, and Starbucks' target is 1,500, mainly in the Americas and the China-Asia Pacific region.
Subway has been pursuing rapid growth for the past decade (see this map of its expansion over the years). According to figures from Chief Development Officer Don Fertman, the chain has averaged more than 2,000 new spots per year for the past 10 years, but international expansion has bumped up the rate to more than 2,500 in 2012 and more than 2,700 in 2013.
Subway's strategy is to open not only in shopping centers and as free standing locations, but also in what it calls "nontraditional venues," such as hospitals, colleges, sports arenas, and airports, where its sites can be as small as 300 square feet. Fertman says that in North America, it's looking at such Northeast markets as Philadelphia, Boston, and New Jersey, and overseas it's expanding quickly in Brazil, Mexico, Colombia, and Argentina. Brazil is now its fourth-largest market after the U.S., Canada, and the U.K.
Moreover, the chain shows no sign of slowing down: Its leaders predict the market can handle 100,000 locations by 2030.
Before it's here, it's on the Bloomberg Terminal.
LEARN MORE