Why the Swiss Said No to a $25 Minimum Wage
by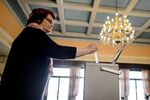 When it comes to raising the minimum wage, more isn't necessarily better. Swiss voters took that into account on Sunday when they soundly rejected setting the national minimum wage at the equivalent of about $25 an hour.
Opponents of the union-backed initiative, echoing arguments used elsewhere, called it an unwarranted intrusion into business affairs that would hurt small employers as well as less-skilled workers, who would be priced out of the market. "People are again saying they don't want the state to meddle," Hans-Ulrich Bigler, director of the Swiss trade association, said, according to Bloomberg.
"Accepting the initiative would have led to job cuts in economically weak, rural areas," Economy Minister Johann Schneider-Ammann said at a news conference in Bern. Switzerland doesn't have a minimum wage now; wages are usually negotiated by collective bargaining.
Small and midsize businesses generate two-thirds of Switzerland's employment and can't handle higher wages as readily as the banks, hedge funds, chemical companies, and pharmaceutical manufacturers for which Switzerland is famous.
Those factors trumped the unions' argument that low-wage workers couldn't get by on what they were being paid.
In other words, the Swiss debate is a mirror image of the one in the U.S.—with one crucial difference. In the U.S., President Obama is backing a measure to raise the federal minimum to $10.10 an hour, just 40 percent of what the Swiss considered and rejected.
For the U.S., a $10.10 minimum wage is low enough that the benefits of lifting living standards for a broad swath of the population more than offset the disadvantage that some marginal workers will be priced out of the labor market, many economists argue. But $25 an hour? That's another story.
Before it's here, it's on the Bloomberg Terminal.
LEARN MORE