Singapore's Rich Tapped by China Developers: Asean Credit
Tanya Angerer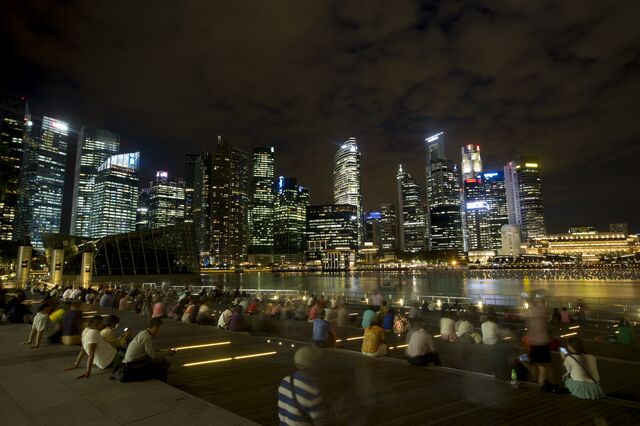 Chinese developers, faced with surging local borrowing costs and a cooling property market, are tapping Singapore's more than 100,000 millionaires with record bond sales.
Private banks bought 79 percent of Central China Real Estate Ltd.'s S$200 million ($160 million) of notes last week. The Zhengzhou, Henan-based developer paid a 6.5 percent coupon on the three-year securities, less than the 8.5 percent yield on $400 million of five-year U.S. dollar-denominated debt it sold in May 2013. Yanlord Land Group Ltd., which builds luxury residential complexes in China, placed 77 percent of its S$400 million sale last month with wealthy-client money managers.
Property companies in the world's second-biggest economy are turning to Asia's largest wealth-management center just as borrowing costs at home hold near a seven-month high and global funds turn cautious on China. Singapore dollar bond sales have more than tripled to S$19.8 billion in 2013 from a decade ago, Bloomberg data show. There's still room for growth as Boston Consulting Group Inc. estimates firms in the island manage about $800 billion in offshore assets.
"Private banks have shown strong interest in several Singapore bond issues because they've offered attractive returns," said Melvin Lee, a Singapore-based senior vice president at Fullerton Fund Management, which managed S$11.9 billion of assets as of March 31. "Foreign issuers are generally able to get a lower cost of funding from the Singapore bond market because there's a lot of cash in the system waiting to be deployed."
Spread Blowout
In a bid to resurrect a slumping housing market, China's central bank last week told lenders to accelerate mortgage growth. New-home prices rose in April in the fewest cities in 18 months as developers offered discounts and the economy slowed, prompting the easing of property curbs in some places.
Sluggish construction and home sales are in part to blame for economic expansion which was the slowest in six quarters in the first three months of the year, helping to spark a blowout in developer dollar-bond spreads this quarter that was the second-largest among 13 emerging real estate markets tracked by Bank of America Merrill Lynch indexes. The average yield premium over Treasuries for Chinese builder debt swelled to 711 basis points from 701 on March 31.
Redemptions from China equity and bond funds were the highest in six weeks and more than two years respectively during the second week of May, EPFR data show.
Less Volatile
Chinese real estate companies sold $6.9 billion of dollar bonds last quarter, down 23 percent from the same period of 2013, data compiled by Bloomberg show. Foshan-based Country Garden Holdings Co., which develops residential complexes and community facilities in China, was the last builder to sell notes in the U.S. currency, issuing $550 million of five-year debentures at 98.989 cents on the dollar May 15. The notes were trading at 99.125 cents today, BNP Paribas SA prices show.
The yield on Yanlord's S$400 million 6.2 percent debentures due 2017 has ranged from 5.884 percent to 5.942 percent since they were sold on April 28, Bloomberg-compiled prices show. The Singapore-listed company's $300 million 9.5 percent U.S. dollar notes also due 2017 have experienced wider swings, with yields ranging from 11.362 percent to 19.152 percent over the same period.
Singapore's market is less volatile because investors typically buy and hold company debt rather than selling the securities quickly for a profit, Fullerton's Lee said. "It's more insulated than other markets in Asia," he said.
Attractive Funding
The yield on China Vanke Co.'s S$140 million of 3.275 percent four-year notes sold in October fell to 3.27 percent, the least since November 6. Yields touched a record 3.437 percent in April.
Despite the growth in Singapore's local-currency bond market, domestic companies still dominate sales. Foreign names, especially Chinese investment-grade credits, allow investors to pick up some extra yield, according to UOB Asset Management Ltd.
"Foreign issuers bring depth to the market, and they're able to secure more attractive funding," said Adeline Tan, a Singapore-based analyst at UOB Asset Management, which managed some S$14.2 billion out of Singapore as of March 31. "These Chinese names also offer more attractive yields over the usual Singaporean issuers."
Super Rich
Singapore dollar bond sales total S$10.1 billion this year compared with S$8.8 billion the same period of 2013, according to data compiled by Bloomberg. By way of comparison, baht-denominated sales in Thailand since Dec 31. total 274.9 billion baht ($8.45 billion) while Asean domestic bond sales total $26.2 billion.
Singapore, Asia's second-smallest country after the Maldives, had 101,000 millionaires at the end of 2012, up 10.3 percent from a year earlier, according to Capgemini SA and Royal Bank of Canada's Asia-Pacific Wealth Report 2013.
The island is poised to surpass Tokyo as the Asian city with the most ultra-high-net-worth individuals within a decade as its stature as a financial center increases with the region's economic growth. It should be home to about 4,878 people with $30 million or more in assets excluding their principal residence by 2023, a 55 percent gain from 2013 and trailing only London globally, according to a March report from Knight Frank LLP.
Credit Positive
It's a "target audience that companies look to engage, particularly those that are higher yield issuers," said Swee Ching Lim, a Singapore-based credit analyst at Western Asset Management Co. "This might be even more so for issuers that don't appear to have any immediate links to Singapore from a business and or listing standpoint."
The request by People's Bank of China to improve lending efficiency is "credit positive" for developers, especially for those with reputable brands and mass-market appeal, Moody's Investors Service analysts led by Hong Kong-based Kaven Tsang said in a May 16 report.
"An expedited loan-approval process would lead to more timely disbursement of funding for home buyers and subsequently boost developers' cash collection rates," Tsang said.
Companies which may benefit most include China Overseas Land & Investment Ltd., Poly Real Estate Group Co., China Vanke and Shimao Property Holdings Ltd., Moody's said.
The latest directive from China's central bank marks a reversal from the last four years, when the country enacted restrictions on its housing market to curb soaring prices. First-tier cities including Beijing, Shanghai, Shenzhen and Guangzhou raised the deposit required to acquire second properties to 70 percent last year.
The Singapore dollar has climbed 0.14 percent in the past year, Asia's third-best performance. The Thai baht has dropped 8.39 percent, while Indonesia's rupiah slumped 14.96 percent.
"I'm cautiously optimistic about seeing more deals," said Clifford Lee, the Singapore-based head of fixed income at DBS Group Holdings Ltd. "There's a sizable amount of Singapore dollar deposits in the system, some S$500 billion, and a good portion of this belongs to retail investors seeking plain-vanilla Singapore dollar investments."
Before it's here, it's on the Bloomberg Terminal.
LEARN MORE