Rogue Trader Kerviel Lost His Court Case, but He's Winning the PR War
By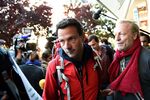 Jérôme Kerviel's career as a trader was a disaster. But as he prepares to enter prison for his rogue trades, which cost French bank Société Générale some €4.9 billion ($6.7 billion), Kerviel is showing an impressive knack for public relations.
In February, while France's highest court was reviewing a final appeal of his 2010 conviction, the 37-year-old former trader headed to Italy, where he met briefly with Pope Francis at the Vatican. Then he set off on a nearly three-month-long walk back to France, a journey that has generated a blizzard of news coverage and thousands of supportive comments on his Facebook and Twitter pages.
The French court rejected Kerviel's appeal of his three-year sentence, and on May 19 he was taken into custody at the French border. But he did not go quietly, telling Bloomberg Television that he was asking President François Hollande to grant immunity to "people who want to denounce the judicial system" about its handling of his case.
The case is politically delicate for Hollande, who declared during his 2012 campaign that the financial system was his "real enemy." In an open letter published May 17 in the Nice-Matin newspaper, Kerviel recalled that comment, adding: "I am the victim of his enemy."
In interviews over the past few days, politicians from France's far-left and far-right parties have defended Kerviel, describing him as a scapegoat for the transgressions of the financial system. The government "relentlessly pursued this man, without questioning the system of speculation that lets banks gamble with their depositors' savings," Marine Le Pen, head of the rightist National Front, said.
Kerviel says he isn't seeking immunity for himself, but others are suggesting that he should be pardoned. "Jérôme made a promise to the Pope, he wants to reform the [financial] system," which he can't do while behind bars, says Patrice Gourrier, a priest who accompanied Kerviel on part of his walk. Hollande hasn't commented directly, but a spokesman for his office told Agence France Presse on May 17 that if Kerviel asked for a pardon, the request would be examined "according to usual procedure."
Kerviel's comments aren't always easy to square with his actions. In interviews several months ago, he fretted that he might never see his frail, elderly mother again if he went to prison. Yet he chose to spend his last three months of freedom walking through Italy.
The ex-trader has said he was inspired to walk from Rome to Paris after meeting with Pope Francis, who has publicly denounced the "idolatry of money" and the "tyranny" of financial markets. The meeting with the pope appears to have been fleeting, however. The Vatican has said it has no record of a private discussion; photos show Kerviel standing in a crowd and shaking hands with the pope across a fence.
It's also unclear why he waited nearly four years after the conclusion of his trial to request immunity for potential witnesses. Kerviel contended during the trial that his superiors were aware that he and other traders regularly exceeded their authorized trading limits, but other witnesses disputed that.
Still, Le Monde said in an article over the weekend: "How much weight will be given to that [trial evidence], compared to the image of a suntanned, bearded Jérôme Kerviel, marching along the road with his backpack, a self-proclaimed apostle in the struggle against the excesses of the financial markets?"
Before it's here, it's on the Bloomberg Terminal.
LEARN MORE