Political TV Ads: $445 Million Mostly Goes to Trashing Obamacare
By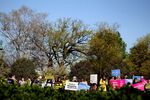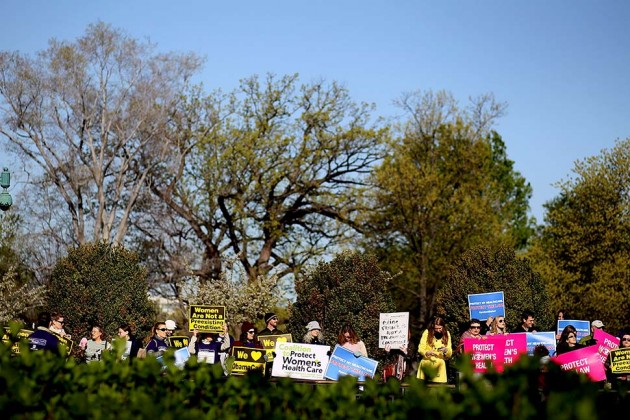 Political candidates, their allies, and issue groups have spent nearly half a billion dollars on TV ads talking about the Affordable Care Act since the law was passed four years ago, according to a new analysis by Kantar Media CMAG, which tracks political ads. And for every $1 spent in support of Obamacare, $15 went to trashing it.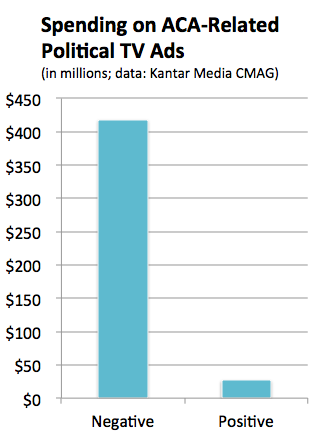 Kantar monitors TV ads on local and national broadcasts and on national cable networks. Since the law was passed in March 2010, American television screens have witnessed an "unprecedented, largely unanswered negative political ad spend," the firm said in a presentation prepared for the conference last week of the American Association for Public Opinion Research.
The lopsided spending pattern is more a reflection of public opinion than a determinant of it, says Elizabeth Wilner, senior vice president at Kantar Media Ad Intelligence. It indicates what messages political groups believe will hit home. "In general, political advertising is a tell," she says in an e-mail. "Where and when you air your ads, and what you say in them, [are] an encapsulation of your strategy to win." Because most of the ads target local markets, national opinion polls don't accurately reflect the influence of the advertising, and Wilner says no one has done the kind of local surveys over time needed to determine the effects of the ads.

While most of the political spending was concentrated in election years, the first Obamacare enrollment period that opened last fall brought another blitz of TV ads from insurers and the government encouraging people to enroll. But insurance companies steered clear of the law's charged politics. Of the $381 million in insurance ad buys, less than a quarter even mentioned the ACA, according to Kantar's analysis. The federal government and state insurance exchanges also spent about $160 million encouraging people to enroll, mostly in late 2013 and early 2014.
TV is just one medium, and the data don't reflect spending on messages in print, radio, or online. Nationally, feelings about the Affordable Care Act were running slightly more negative than positive until last fall, when the gap widened after the flubbed opening of healthcare.gov. (It's important to note that some of the opposition comes from people on the left who favor more sweeping health reforms, such as a single-payer system.) Here's a look at the Kaiser Health Tracking Poll's measure of public opinion on the ACA.

Republicans plan to keep running against Obamacare in 2014. In Senate races in New Hampshire and North Carolina and in 13 House elections, 100 percent of the GOP television ads so far have mentioned Obamacare, according to Kantar's data. Watch to see whether more Democrats embrace the law now that the first year of enrollment is under way.
Democrats' advertising clearly didn't match their rivals' treatment of Obamacare in the 2010 or 2012 elections. In 2012, Obama's campaign ran just one English-language spot about his foremost policy achievement, mentioning the law in only 3 percent of the campaign's paid airtime. (Eleven others ran in Spanish.) In 2008, an Obama ad attacking the health plan of his opponent, John McCain, ran 24,000 times, Kantar says, the most of any ad in the past 10 years, and possibly ever.
Before it's here, it's on the Bloomberg Terminal.
LEARN MORE