Original Apple Logo Signs, Prototype Go to Auction
By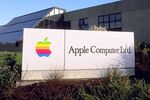 Two of the original rainbow apple signs that adorned Apple's Cupertino (Calif.) headquarters are up for sale. Bonhams auction house expects the signs, which were removed from the company's headquarters in 1997 and "given to a longtime Apple employee," will fetch $10,000 to $15,000.
Although the iconic symbol has long been synonymous with Apple, it wasn't the company's first logo. That was a 1976 lithographic scene of Isaac Newton sitting under a tree below a dangling apple, wrapped in a banner emblazoned with "Apple Computer Co." As you might expect, that logo didn't last long. A year later, Steve Jobs ordered a redesign from Rob Janoff, with a single direction: "Don't make it cute." The resulting, albeit slightly cute, mark came to symbolize the company's simple, friendly user interface. A monochromatic version is still stamped on all Apple products today.
In a 2009 interview with CreativeBits, Janoff said he presented Jobs with only two options: one with a bite and one without. "I designed it with a bite for scale," he says, "so people get that it was an apple, not a cherry." As for the origin of the rainbow of stripes, Janoff said:
"The real solid reason for the stripes was that the Apple II was the first home or personal computer that could reproduce images on the monitor in color. So it represents color bars on the screen. Also, it was an attempt to make the logo very accessible to everyone, especially to young people, so that Steve could get them into schools."
The auction, titled The Story of the 20th Century, also includes a prototype featuring an awkward vertical screen. The model was created by the Apple Industrial Design Group and Matrix Product Design and dates from around 1989, when the company was working on the LC. Bonhams speculates that, "considering the screen orientation, this very well could have been a prototype for a model targeted toward the business world, rather than the artistic, publishing and educational markets that the Mac traditionally attracted."
The model is expected to sell for $1,200 to $1,800—a pricey bit of painted foam but a bargain for a fanboy looking to own a piece of Apple history.
Before it's here, it's on the Bloomberg Terminal.
LEARN MORE