No Relief for Parched California Farms, But the Wine's OK
By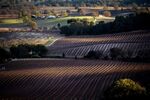 Drought-plagued farmers won't get much relief this summer. According to a forecast from the Climate Prediction Center, California will experience above-normal temperatures and little rain from June through August. America's southern plains region will probably get hot weather, too.
USDA meteorologist Brad Rippey says drought is "locked in" across California until at least this autumn. Much of the state's farmland receives water from snowfall in the Sierra Nevada mountains, which was at about 24 percent of normal levels as of February, leaving farmers to try to offset the shortfall through increases in groundwater.
Some California crops have gone unplanted this year, including cotton, rice, and a variety of vegetable. Producers may leave some of their fields fallow to divert available water to long-term investments such as orange or almond orchards or vineyards, says Rippey.
About those vineyards: The Wine Institute, an advocacy group for California wineries, insists its members will be fine. According to a spokesperson: "Wine and grape quality will not be affected, but yields could be impacted for the current or future crops depending on the weather this year. With the record high California winegrape harvests in 2012 and 2013, there is good supply of California wine."
The southern plains states of Texas, New Mexico, Oklahoma, and Arkansas, are expected to get rain, but high temperatures will make it difficult to deal with long-term drought, Rippey says. The hard red winter wheat crop (about 40 percent of the wheat produced in the U.S.) is deteriorating due to drought, record heat, and low humidity. Texas, which typically produces more than one-third of the country's cotton, has seen abandonment rates at 40 percent or greater for an unprecedented three-year stretch, a trend Rippey expects to continue without considerable rainfall in late spring and summer.
In addition to the vineyard outlook, the other good news is that major corn and soybean production areas will benefit from relatively cool temperatures in the Midwest—possibly related to the first projected El Niño conditions in five years.
Before it's here, it's on the Bloomberg Terminal.
LEARN MORE