NBA Takes First Step to Strip Clippers From Donald Sterling
By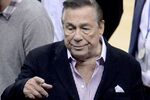 The National Basketball Association has delivered its charge against Los Angeles Clippers owner Donald Sterling, a first step toward forcing him to sell.
The league statement says that Sterling "engaged in conduct that has damaged and continues to damage the NBA and its teams," and he is already banned for life from running the team because of his racist comments caught on tape and released last month.
Sterling has until May 27 to respond to the charge, and NBA owners will meet again on June 3 for a meeting at which Sterling can defend himself. To strip Sterling of the team and begin a forced sale—or at least the legal battle over a forced sale—will require a three-quarter vote of at least 22 of the other 29 owners.
From the NBA's statement on Monday afternoon, it appears that Sterling's attempts at damage control only made his problems worse. The charges appear to include statements he made in an interview with CNN's Anderson Cooper after he had already been banned. "Among other things," the statement reads, "Mr. Sterling disparaged African-Americans and 'minorities'; directed a female acquaintance not to associate publicly with African-Americans or to bring African-Americans to Clippers games; and criticized African-Americans for not supporting their communities."
This last charge seems to refer to Sterling telling Cooper that "Jews, when they get successful, they will help their people. And some of the African Americans—maybe I will get in trouble again—they don't want to help anybody." Sterling also used the term "minorities" when disparaging Magic Johnson and his record of charitable giving during the interview: "Has he done everything he can do to help minorities? I don't think so," Sterling said.
Before it's here, it's on the Bloomberg Terminal.
LEARN MORE