Napa Tribal Casino Resisted by Winemakers to Protect Land
Alison Vekshin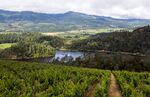 The threat of a Las Vegas-style casino opening in the lush fields of California's Napa Valley is rousing the makers of some of the world's most celebrated wines into a pitched community fight.
Vintners and county officials are resisting the Mishewal Wappo Tribe of Alexander Valley's potential tribal gambling complex, saying they want to preserve the land and environment that give unique properties to their Cabernet Sauvignon and other regional varietals. The tribe is suing the U.S. for federal recognition, which would allow it to circumvent local zoning restrictions.
"We're not against them getting recognition, what we don't like is the threat of the exact type of development that we've been saying 'no' to for 60 years," said Janet Viader of Viader Vineyards & Winery near St. Helena, who has lobbied in Washington and Sacramento on the issue. "We're about protecting the right to grow agriculture and continue our trade."
Wappo leaders say they're seeking to restore the federal status they lost under a 1958 U.S. statute affecting small tribal groups in California. Recognition would allow the 341-member tribe to pursue economic development, including a casino, without having to seek community approval.
A federal judge in San Jose heard arguments in July and hasn't yet issued a decision on the case, filed against the U.S. Interior Department in 2009. Jessica Kershaw, a department spokeswoman, declined to comment.
$5.5 Billion Retail
Napa County has 789 licensed wineries, according to a 2012 report prepared for the Napa Valley Vintners, a trade association, with labels including the Robert Mondavi Winery and Cakebread Cellars. The retail value of wines from the Napa Valley appellation sold in the U.S. in 2011 was $5.5 billion, the report said.
Casino opponents point to a Napa County ordinance that gives priority to agricultural land use, discouraging large-scale development, and to the area's pastoral character: Napa Valley's main thoroughfare is a scenic, two-lane road dotted with tasting rooms and already congested with tourists.
"You've got an unfair playing field if you have an entity that comes in, buys land and can just do whatever they want to on it," said Diane Dillon, a member of the Napa County Board of Supervisors. "That would be contrary to the whole protection of agricultural land that has existed in this county since 1968."
Scott Gabaldon, 44, the tribe's chairman and a general contractor from Windsor, said he wants his group to gain federal recognition before deciding whether a casino will be among the projects the members pursue.
'Money-Making'
"That's up to my tribe as to what they choose to do," he said. "There are so many other ways to do economic development rather than just a casino. Now, don't get me wrong, a casino is the fastest, most-efficient, money-making way."
Tribal casinos are projected to provide $236 million in revenue for California in fiscal 2015, according to the state's Finance Department.
The most populous U.S. state is home to 65 casinos operated by 64 tribes, according to Susan Jensen, a spokeswoman for the Sacramento-based California Nations Indian Gaming Association. California workers earned $2.9 billion from tribal gaming, which supported about 56,000 jobs in 2012, according to a study by Los Angeles-based Beacon Economics LLC released this month.
Sonoma County, Napa's western neighbor across the Mayacamas Mountains, has two tribal casinos located off U.S. 101, the main coastal artery in Northern California. Sonoma, which is about twice as large in area and population, doesn't have Napa's land-use restriction.
Traffic Jam
The November opening of the $800 million Graton Resort & Casino in Rohnert Park backed up traffic on the four-lane expressway through Sonoma. The casino's first-quarter adjusted earnings before interest, taxes, depreciation, amortization and management fees was $57 million on net revenue of $101 million, according to a May 8 statement by Las Vegas-based Station Casinos LLC.
The company manages the casino for the Federated Indians of Graton Rancheria, who won federal recognition in 2000, according to the tribe's website.
"Once a group of folks are a recognized tribe, then they have the ability to petition to take land into trust for all sorts of purposes," said Jeff Brax, Sonoma's deputy county counsel. "The casino would probably be the first, the most obvious and potentially the most impactful."
Agricultural Preserve
Napa County established the first agricultural preserve in the U.S. in 1968, declaring that agriculture is the highest and best use of the land. The intent was to prevent the urbanization of farmland seen in other parts of the San Francisco Bay Area.
"A casino in Napa would be completely inappropriate," said Larry Florin, the county's director of housing and intergovernmental affairs, citing the potential for heavy traffic and pollution.
"The ecological balance -- the climate, water, the lack of industrial uses -- together create the types of grapes that are in such large demand that are the basis for our wine that's world-renowned," he said. "Any upset in that balance really threatens our livelihood."
The Wappo say such arguments are disingenuous.
"For years, those wineries have polluted the rivers with all the toxins coming from them -- and they're going to complain about pollution?" Gabaldon said.
Casinos "make a lot of money," he said, "and I know a lot of those casinos give back to the community."
Before it's here, it's on the Bloomberg Terminal.
LEARN MORE