pursuits
Godzilla's Attack on IMAX Boosts Its Box Office Power
By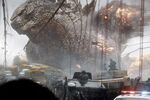 For a 60-year-old mutant lizard, Godzilla still has plenty of blockbuster power.
The giant lizard's latest eponymous film garnered a better-than-expected $93 million in U.S. ticket sales in its opening weekend and another $103 million from 64 overseas markets, the best international debut so far this year. Godzilla crushed in the U.K. and Russia, while Mexico—normally a tiny movie market—ended up as the movie's third-biggest foreign box office, with $9 million in ticket sales.
The massive debut easily towered over the last time the Japanese lizard hit theaters, in 1998. Adjusted for inflation, that movie grabbed $81 million during its opening weekend.
The contemporary Godzilla deployed a savvy strategy for attacking consumers. The film made sure not to miss large-format theaters, where fanboys and fangirls were happy to pay premiums for a supersize experience. Some 15 percent of the weekend's ticket revenue came from IMAX theaters, as each of the 353 giant screens that showed the film took in $40,057 on average.
It also helped that the movie isn't terrible, with raves from some critics and a 73 percent approval rating on Rotten Tomatoes, which aggregates professional reviews. The 1998 version of the Godzilla story drew only 25 percent, despite starring Matthew Broderick.
Still, the new film couldn't top other major recent releases in the U.S. Captain America: The Winter Soldier opened last month with slightly stronger numbers. And Iron Man 3, last year's box office champion, earned almost twice as much in its opening weekend.
Godzilla, however, has yet to take over screens in China, the world's No. 2 movie market. And it won't show in Japan—its birthplace—until July.


Before it's here, it's on the Bloomberg Terminal.
LEARN MORE