For MBAs, Internships Are More Important Than Ever
by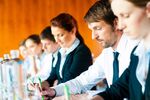 In the weeks to come, first-year MBAs candidates will say so long to campus life and start internships at the largest companies in the world—high-paying summer gigs where an intern's performance can determine postgraduation jobs and her school's reputation. (No pressure or anything.)
According to a survey published today by the Graduate Management Admission Council, the organization that administers the GMAT, 76 percent of employers who hire MBA interns in 2013 went on to hire at least one intern for a full-time job. Meanwhile, 57 percent of respondents said that satisfaction with past interns is a key factor in deciding which business schools to recruit from. Respondents also ranked internship experience among the top 10 criteria they consider when deciding which candidates to interview for full-time jobs.
The survey, based on responses from more than 600 employers that recruit MBAs, had some other interesting findings:
Starting salaries are still flat. Two-thirds of respondents are paying new hires the same amount they did last year. Only 9 percent said they were increasing starting pay above the rate of inflation.
Starting salaries are still good. The median salary for newly minted MBAs who land jobs in the U.S. was $95,000, according to the survey. That's $45,000 a year more than the median salary for undergrads, GMAC says.
In other words, quit stressing over finals. It's your internship you should be worried about.
Before it's here, it's on the Bloomberg Terminal.
LEARN MORE