Designer of Beats Headphones Prototype Discovers There's No Free Lunch
By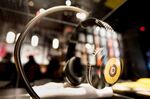 Fans of the signature boom in Beats Electronics headphones can thank Mike Klasco, an audio-equipment consultant who was responsible for the speaker and related electronic innards of the original device. But if Apple spends $3.2 billion to acquire Beats as expected, Klasco won't be among those who reap the benefits.
In 2005, he was hired by Stephen Lamar, a former hedge-fund manager who had created SLS Audio. Lamar was working with Beats owners Jimmy Iovine and Dr. Dre to create a new kind of headphone. Klasco went to work on a model that could handle the power needed for high-tech amplifier chips, which were just hitting the market.
BayStar Capital, Lamar's hedge fund, invested $12 million in SLS to create a line of audio equipment, but Lamar eventually pulled the plug on the project when he was unable to raise capital, Lamar wrote in an e-mail. The headphones seemed destined to die for good at that point, so Lamar gave Klasco permission to shop his electronic design around. He called executives at another company he was working with on other projects: Monster Cable Products, a maker of pricey audio cables.
A year later, Klasco, Lamar and Robert Brunner, a former Apple designer who had done the industrial design for the headphones, met with Monster near its headquarters in Brisbane, California. When Monster finally agreed to manufacture and distribute the headphones for Beats, Klasco didn't push for a royalty or slice of ownership that might have meant millions should the Apple deal go through. Instead, he accepted a cash payment from SLS that was $10,000 less than the price he had initially quoted Lamar.
"All I got for our work was $30,000 and a free lunch," said Klasco. "It was a good lunch, at least: Japanese."
Of course, Klasco couldn't have envisioned that Beats would help jump-start a global frenzy around premium headphones. An estimated $8.2 billion was spent on headphones worldwide last year, and Beats by Dre accounted for about a quarter of revenue, according to research firm Futuresource Consulting.
Klasco's small engineering shop Menlo Scientific, located in Richmond, California, has for the past 31 years helped companies build audio-related products. The firm's fingerprints can be found on the headset packaged with Microsoft's Xbox 360, a Cisco Systems desk phone situated in cubicles around the world and a monitor from Taiwan-based Acer. Klasco also worked on the AudioVision Display, an early-1990s product by Beats's prospective future owner, Apple.
Sarah Joyce, a spokeswoman for Beats, declined to comment. Monster CEO Noel Lee confirmed that his company hired Klasco and Brunner work on the Beats Studio headphones, but said the design changed significantly from what the contractors from SLS had proposed.
"Acoustically the SLS version sounded poor. No volume, no bass, no emotion," Lee said in a statement. "The Monster engineering team led by me ultimately created a way to reproduce the groundbreaking design that provided the strong bass, effective noise-canceling with minimum distortion."
Klasco said Monster made many changes to the design after he exited the project, including the acoustical tuning that gave the headphones their bass-heavy sound. He was proud when the headphones went on sale in 2009, he said. He's held onto two of the prototype headphones. However, he was a bit surprised at how the company had cranked up the bass on the final product.
"I thought it was too much," said Klasco. "But it turns out they were very right, and I was very wrong."
Who deserves credit for the popular headphones has long been a contentious debate. There's Dre and Iovine, of course, but Monster's CEO has also claimed the title. Asked if he regretted not having a stake in Beats now, Lee recently told Emily Chang in a Bloomberg TV interview, "A lot of people don't even know that Monster designed all the engineering behind the Beats products."
Klasco said Lamar is the real father of Beats headphones, but he has gladly stayed out of the legal tussles that have broken out on this question. And despite the missed opportunity with Beats, Klasco is sticking with cash. His five-person firm pulled in nearly $1 million last year, most of it in fees rather than royalties.
"We got paid well on the Beats project, and we didn't take any of the risk," he said. "With all those heavyweights in there arm-wrestling, there was no room for us."