Cadillac Finally Makes German Luxury Prices Stick
By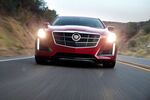 It's really happening this time. After a decade of false starts, Cadillac's midsize sedan is finally matching the Germans—on price, at least.
In the U.S. last month, the Cadillac CTS sold for $54,571 on average, almost as much as the vaunted Mercedes-Benz E-Class ($55,788) or the BMW 5 Series ($56,284). A year ago the midsize Cadillac was selling for less than $44,000, more than $16,000 less than its German-born rivals. In short, Cadillac buyers aren't asking for a Detroit discount anymore—they're forking over the Euro premium.

Cadillac ratcheted up prices the old-fashioned way: by making a much better car. The 2014 CTS is both longer and lighter than its prior iteration and stocked with an array of features that come standard, not as expensive add-ons.
The brand's Cadillac User Experience (CUE) entertainment and navigation system is splashed across an 8-inch screen, and the car's lauded Magnetic Ride Control is standard. Then there are the less noticeable things: aluminum body panels, stitched leather on the doors, acoustically laminated windows, and power seats that cant 14 different ways.
Cadillac also went European with its engines, giving buyers a wider range of options. The old CTS had a 3-liter V6. The current model comes with a smaller, turbocharged four-cylinder, a 3.6-liter six-cylinder, or a souped-up version of the bigger engine with two turbos.
This is how the big boys do midsize luxury—a have-it-your-way system that runs all the way up to about $73,000. The overhaul was rewarded in January when the CTS won Motor Trend's Car of the Year award. Say what you will about car trophies; buyers pay attention to that one.
Most important, the CTS is now quite a bit different from its smaller sibling, the ATS, so the two no longer fight for attention. "It moved out of its own way," says Bloomberg Industries analyst Kevin Tynan. "It was basically competing with the ATS, which was good for neither model."
Cadillac is still lagging its rivals in volume. In the first four months of the year, Mercedes sold almost twice as many E-Class sedans in the U.S., while CTS sales trailed BMW's 5 Series by 27 percent.

Tynan believes that for the time being, General Motors may be just fine with that gap. "Building a better car means volume will come," he says. "And I think they are willing to trade higher volume for more than $10,000 on transaction prices."
Before it's here, it's on the Bloomberg Terminal.
LEARN MORE