AT&T's $49 Billion Deal for DirecTV Hangs on Football Fanatics
by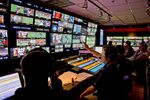 Lest anyone ever doubt the nation's passionate love of pro football, look to the tiny print of a regulatory filing AT&T made late on Sunday to acquire DirecTV. The $48.5 billion deal could fall apart if the satellite-TV company is unable to renew its NFL Sunday Ticket service, a premium package offering access to all out-of-market games for $39 per month.
Football could play a decisive role in the megamerger. The breakup provisions stipulate that AT&T would be able to litigate and potentially collect damages if DirecTV fails to use "its reasonable best efforts to obtain such a renewal" of NFL Sunday Ticket, according to a filing with the Securities and Exchange Commission.
DirecTV reportedly pays about $1 billion per year for the exclusive right to carry the all-encompasing football package, which also includes the ability for subscribers to watch games on tablets and other mobile devices. The NFL's current contract with DirecTV expires after the coming 2014 season, and the league is seeking a price increase of about 40 percent, or $1.4 billion annually, according to a report in the Los Angeles Times. The satellite company wants more digital rights around the games, and that has caused a snag in the talks, the newspaper reported.
NFL Sunday Ticket has proved an enormous product differentiator and a lure for new subscribers, and about 10 percent of DirecTV's 20.3 million customers pay for the package.
The urgency of the Sunday Ticket deal is one reason NFL Commissioner Roger Goodell got a call on Sunday from the CEOs of both AT&T and DirecTV "to convey our enthusiasm for why this transaction is great for the NFL in the future as well as great for us," as DirecTV Chief Executive Officer Michael White said on Monday during a conference call with analysts. "I'm still highly confident that we're going to get our deal done," he added, calling the negotiations "very positive and instructive. If anything, I think this unlocks further opportunities for the NFL and for us, and we're very excited about the future together."
It's not uncommon to see corporate chieftains try to soothe antitrust regulators while bringing together a multibillion-dollar deal. Now, it seems, the most powerful commissioner in sports may become a key M&A player, too.
Before it's here, it's on the Bloomberg Terminal.
LEARN MORE