Amid India's Euphoria, Can Modi Live Up to Economic Expectations?
By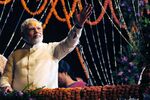 Narendra Modi is suddenly popular with foreign leaders.
For years, the Indian politician was unwelcome in the U.S. because of allegations–which Modi calls untrue–that he didn't move to halt anti-Muslim rioting when he was chief minister of the Indian state of Gujarat in 2002. American and British officials wouldn't meet with him and the U.S. wouldn't give him a visa. But there's nothing like a landslide election victory to boost one's popularity.
India's next prime minister is now deluged with invitations: President Obama and British Prime Minister David Cameron have invited the Hindu nationalist leader to visit, and German Chancellor Angela Merkel spoke with Modi on the phone Monday to invite him to Berlin.
Japanese Prime Minister Shinzo Abe wants to get together, too. The Japanese leader, who welcomed Modi when others treated him as persona non grata, phoned to invite him back to Tokyo, Japan's foreign ministry said today.
And the Indian stock exchange's Modi Rally continued last week's rally on Monday, the first full day of trading since the BJP won the largest election mandate in three decades. The benchmark Sensex index rising 1 percent to 24,363, its highest ever close, while India's currency rose to an 11-month high.
"The elections have delivered a clear mandate for governance and growth, which should be leveraged for decisive action that will rebuild confidence in the economy," Chanda Kochar, chief executive of ICICI Bank, India's largest private-sector bank, said in a statement published over the weekend.
Optimists see no reason for the euphoria to end. While the economy is still under-performing, with growth below 5 percent and inflation over 8 percent, the conditions are in place for a strong rebound, says Tamara Henderson, a Bloomberg economist in Singapore. The central bank has been taking steps—albeit unpopular ones with some members of Modi's party—to fight inflation by raising interest rates, and China's slowdown has eased pressure on commodity prices. The next step, she says, is for Modi's government to show it is serious in tackling problems like the fiscal deficit, which is 4.6 percent of GDP largely because of subsidies for fuel and other essentials.
The big test will come soon when Modi's new finance minister will have to present an adjustment to the former government's budget. Henderson is looking for a slowdown in spending and a more realistic assessment of India's short-term growth potential. "I would be looking for a budget plan that implies real growth of 5 percent and spending that's not too out of line with that," she says. "That would be a good sign."
If Modi delivers and doesn't interfere with Reserve Bank of India governor Raghuram Rajan, India might be poised for a healthy rebound. "There's a central bank that has been hiking interest rates and getting its credibility together," Henderson says. "All you need is the budget. That's the last piece and then they'll be on their way."
Still, Moody's reminded observers not expect miracles. There's reason to be upbeat about what the new government will do, as the ratings agency's wrote in a report published on Monday. But since India has so many problems that festered under the previous government, the country will need a long time before it can return to healthy growth. On Modi's to-do list: "India's weak fiscal position, the regulatory constraints on investment and output and the lack of adequate social and physical infrastructure," according to Moody's.
Milan Vaishnav of the Carnegie Endowment for International Peace put it more bluntly when talking with Bloomberg Television on Friday. "He really has his hands full," Vaishnav said. "India is in a dire economoic situation right now." But at least many Indians and foreigners now have hope there's a government that will finally be able to deal with that dire situation.
Before it's here, it's on the Bloomberg Terminal.
LEARN MORE