business
Airbus Wants to Help Close Europe's Drone Gap
By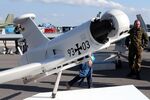 Can Airbus do for drone making what it did in the commercial jet business? To gain a foothold in a market now dominated by the U.S., Airbus Group and two other European aerospace companies today unveiled plans to develop a "next-generation advanced European unmanned aerial system" for military and intelligence use.
Airbus's defense unit is teaming with Dassault Aviation of France and Italy's Alenia Aermacchi to develop a drone that could be ready for launch by 2020. "The need for our armed forces is indisputable," Bernhard Gerwert, chief executive of Airbus Defence & Space, said in a statement.
Catching the competition won't be easy. Governments in Britain, France, Germany, Italy, and the Netherlands are already buying the Reaper drone made by General Atomics in San Diego. Israel also sells drones to Europe, while several efforts to develop a European-made drone have stumbled.
The task for Airbus, Dassault, and Alenia is especially complicated because armed forces in different European countries haven't spelled out their requirements for a new model or committed to buy what the companies develop. That means the companies will be financing upfront development costs "without knowing whether there's going to be a customer at the end of the day," says analyst Huw Williams of IHS Jane's in London.
Airbus complained last year that it had spent €100 million ($137 million) of its own money on drone R&D, without support from governments. Underscoring the potential difficulty, German Defense Minister Ursula von der Leyen told reporters in Berlin today that Germany would not be hurried to make a decision about its drone requirements.
In an era of stagnant defense spending, some countries might opt to stick with upgraded versions of drones they already operate, rather than investing in expensive new technology, Williams adds.
Europe has already suffered setbacks in developing its own drones. Germany last year abandoned a spy-drone project after sinking €500 million into it, and a drone program led by Dassault and Britain's BAE Systems was scrapped for lack of government funding.
On the other hand, Williams says, the new Airbus effort could benefit from political support. "Europeans definitely like things to be built in-country, rather than imported," he says.
Before it's here, it's on the Bloomberg Terminal.
LEARN MORE