AstraZeneca Rejects Pfizer $117 Billion Takeover Bid
Drew Armstrong and Oliver Staley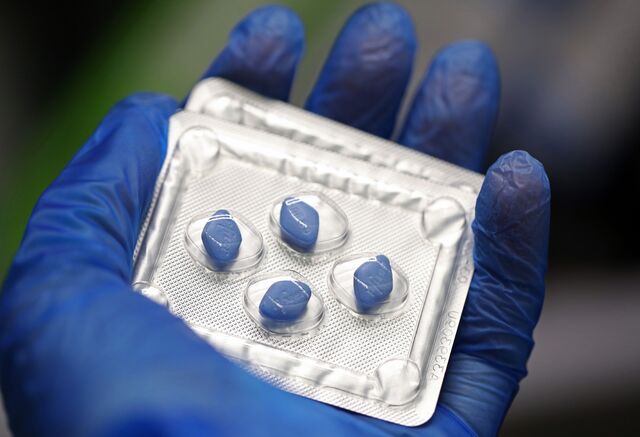 AstraZeneca Plc rejected another takeover offer from Pfizer Inc. as too low, leaving the companies in a stalemate over a deal that would create the world's biggest drugmaker.
AstraZeneca shares plunged the most in almost 12 years in London trading, while Pfizer gained in New York. Now, any progress on an agreement is up to AstraZeneca, Pfizer said today. Yesterday, Pfizer offered to pay 69.4 billion pounds ($117 billion) to buy the London-based drugmaker.
"The fate of the deal is now up to AstraZeneca's shareholders," Joan Campion, a Pfizer spokeswoman, wrote in an e-mail today. "We believe our final proposal represents compelling and full value."
AstraZeneca said earlier today that Pfizer's bid doesn't account for the promise of its pipeline of experimental medicines and presents risks for shareholders. The bid, which Pfizer called its final offer, values the company at 55 pounds a share. AstraZeneca said it would need an offer higher than 58.85 pounds to recommend it to shareholders.
The decline in AstraZeneca's shares reflects investors' view that Pfizer will walk away rather than sweeten the bid again before a May 26 deadline set by U.K. takeover law.
"There's still a chance Astra shareholders will put pressure on management and try to push for a compromise, but the chances of this deal not being agreed on just increased," said Savvas Neophytou, a Panmure Gordon & Co. analyst in London.
Deal Promise
With a deal, Pfizer would transfer its headquarters to the U.K to gain a lower tax rate, add new cancer drugs to its pipeline and gain cost reductions from overlapping operations.
"Following a conversation with AstraZeneca earlier today, we do not believe that the AstraZeneca board is currently prepared to recommend a deal at a reasonable price," Pfizer Chief Executive Officer Ian Read said in a statement yesterday. "We remain ready to engage in a meaningful dialogue but time for constructive engagement is running out."
Pfizer gained less than 1 percent to $29.28 in New York.
AstraZeneca shares fell 11 percent to 42.88 pounds in London, their biggest one-day drop since August 2002.
"There are a lot of people that didn't actually like the company that went in and played the deal," Richard Bank, founder of Beverly Hills, California-based BioVest Advisors LLC, which focuses on health-care stocks, said in a phone interview. "Once the deal was rejected, they backed out."
Leif Johansson, AstraZeneca's chairman, declined to say in an interview today whether the board was unanimous in rejecting Pfizer's latest offer. When discussions with Pfizer ended over the weekend, the offer from Pfizer was 53.50 pounds, so the announcement of a 55-pound offer was a surprise, he said.
'Not Super-Friendly'
While Johansson wouldn't call the surprise proposal hostile, he said, "I certainly will not call it super-friendly."
The board also wants an agreement with Pfizer on issues besides price, such as the regulatory risk of the deal, Johansson said. "The way we have understood Pfizer's position, is that they want to do price and price only, really with one number to get the job done," he said. "In negotiations there is a gap -- sometimes it can be bridged and sometimes it can't. We haven't been able to bridge the gap."
AstraZeneca hasn't been approached by other suitors, he said in an interview with Bloomberg Television.
Some investors made their displeasure with AstraZeneca's rejection known today.
Investor Disappointment
"We are disappointed the board of AstraZeneca has rejected Pfizer's latest offer so categorically," said Alastair Gunn, co-manager of Jupiter Distribution Fund and Jupiter High Income Fund, in an e-mail. "They should have at least engaged in a constructive conversation with Pfizer on the details of the offer to assess the opportunities that a combined entity could bring."
Pfizer's initial bids led to Read's grilling in front of U.K. lawmakers, who have expressed concern a takeover will gut AstraZeneca's research operations in the U.K. and hurt British jobs. Pfizer has said it will complete a campus being built by AstraZeneca in Cambridge, England, and keep 20 percent of the London-based company's research and development workers in that country for at least five years.
On May 2, New York-based Pfizer offered 50 pounds a share, following a previous bid made in January. AstraZeneca objected to Pfizer's plan to pay only 32 percent of that price in cash, with the rest in shares. The new proposal contains 45 percent cash. Pfizer's plan to move its tax domicile, and the fact that the majority of the price would be paid in shares, presents risks to shareholders, AstraZeneca said.
Pfizer Restraint
Pfizer's CEO promised restraint. "We have said from the beginning that we will remain disciplined in the price we are willing to pay and we will not depart from that guiding principle," Read said in yesterday's statement.
AstraZeneca's board repeatedly rejected Pfizer's advances, including a previously unreported offer of 53.50 pounds a share made on May 16, according to Pfizer's statement.
Pfizer's offer expires on May 26 under U.K. law. If another company comes in with an offer, Pfizer could try again -- otherwise it will be subject to a waiting period before it can attempt a new bid.
In the latest offer, AstraZeneca stockholders would get 24.76 pounds in cash and 1.747 shares of the combined company for each share in AstraZeneca, Pfizer said. The latest bid is 10 percent more than a May 2 proposal by the New York-based drugmaker, and is 53 percent above AstraZeneca's closing price on Jan. 3, before Pfizer made its initial offer.
Legal Limit
There's a limit to how low Pfizer can drop the stock percentage of the offer and still be able to move its legal address to the U.K. for a lower tax rate than the U.S.'s 35 percent. For the lower rate 20 percent of the combined company's shareholders must be from AstraZeneca's base.
The new offer would give Pfizer's shareholders 74 percent of the company, and AstraZeneca's 26 percent, Pfizer said.
A rejection will put pressure on AstraZeneca CEO Pascal Soriot to make the company's experimental drugs for cancer and asthma pay off. Soriot said the company will boost sales to more than $45 billion a year by 2023 from $25.7 billion last year as new products reach the market. Revenue will drop through 2017 as some of the company's best-selling drugs lose patent protection.
Some analysts are skeptical, especially given AstraZeneca's failures in drug development in recent years. The company's predictions should be "heavily discounted" because most drugmakers have gotten their long-term forecasts wrong, Timothy Anderson, an analyst at Sanford C. Bernstein & Co., said in a report today.
"Is AZN realistic in what it believes 'fair value' is?" he wrote. "Projecting the worth of new drug pipelines is notoriously difficult, and drug companies and financial analysts alike are often wrong to the tune of billions of dollars, especially when going out 5-10 years. Drug development is just not that predictable."
Before it's here, it's on the Bloomberg Terminal.
LEARN MORE