SocGen Ex-Trader Kerviel Taken in by French Police
Fabio Benedetti-Valentini and Caroline Connan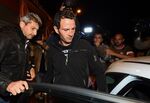 Jerome Kerviel, the former Societe Generale SA trader facing prison for a record banking loss, was taken charge of by French police after prosecutors said his failure to turn himself in would have made him a fugitive.
More than six years after his unauthorized transactions were made public and after three trials in the case, Kerviel was held by police in Menton, near France's border with Italy, to instruct him on his three-year jail sentence. The 37-year-old, who earlier this year met with Pope Francis and had undertaken a walk between Rome and Paris, had been given until midnight yesterday to meet with the police.
Kerviel's incarceration will mark the closing of one of the darkest chapters of French banking history. The unwinding of the former trader's unauthorized bets of more than 50 billion euros ($68.5 billion) -- exceeding the market value of France's second-largest lender -- resulted in a record loss of 4.9 billion euros for the Paris-based bank.
"I am ashamed to have been part of this system," Kerviel said this weekend in a Bloomberg Television interview over a four-kilometer walk between an Italian village called Latte, or Milk, and the border post along the Mediterranean coast, toward Menton. "I was in the system and I let myself get drawn into the system."
The Cour de Cassation, France's highest appeals court, in March rebuffed Kerviel's efforts to overturn a 2012 verdict that found him guilty of abusing the bank's trust, faking documents and entering false data into computers in his trades.
Court Ruling
The court also ruled that the bank's 2008 unwinding of the former trader's unauthorized bets needs fresh scrutiny. The court accepted his civil appeal that challenged the bank's claim that he was solely responsible for the lender's loss from liquidating the positions.
Kerviel had appealed to President Francois Hollande to grant immunity to people within the French judicial system who want to criticize the manner in which his case was conducted.
"I have asked President Francois Hollande to grant that people who want to denounce the judicial system not be penalized for what they've got to say," Kerviel said in the interview. He said he hadn't sought immunity for himself.
Hollande would examine any request for presidential pardon "according to usual procedure," AFP reported over the weekend, citing his office. Should Kerviel seek a pardon, the request would be considered after investigation and advice from the justice ministry, AFP said.
Kerviel's Walk
Kerviel undertook a 1,400-kilometer walk from Rome to Paris after a Feb. 19 brief meeting with Pope Francis. In a March interview, Kerviel said his trek from Rome was aimed neither at getting publicity and sympathy nor at keeping himself out of jail.
His walk, he said, was a personal journey aimed at bringing the message of Pope Francis's November attack on the "tyranny" of financial markets. The pope has criticized capitalism for its "idolatry of money."
In the last stretch, Kerviel attended Mass on May 17 in Ventimiglia's St Augustin church before resuming his walk toward the border. He walked down a road with steep drops overlooking the sea on the one side and sharp-rising mountains on the other with the green shrubs of spring, olive trees and some flowers.
The French border post of Menton is located by the sea. From Italy, it is accessed through a 557-meter tunnel called the "balzi rossi," or red cliffs.
A crowd of about 300 people -- including many Kerviel supporters -- gathered by the tunnel over the weekend, disrupting traffic for a few minutes.
'A Victim'
A French priest, who has walked with Kerviel for the last few days, said he'll continue the march up to the Place de la Bourse in Paris even if the ex-trader has to stop.
"I've promised Jerome and his supporters that I would keep walking in his place," Patrice Gourrier said. "Jerome made a promise to the pope. He was in the system. He wants to reform the system and bring his knowledge, so his place is not in jail. His place is in conferences, in universities. I promised his voice won't be extinguished, we can't shut him up. So I will walk with my backpack, in his name."
Kerviel -- a native of Brittany who rose through the ranks to Societe Generale's trading floor without having attended any of France's elite schools -- became something of a cult hero in the country in the aftermath of the 2008 loss.
There was a comic book, fan clubs and T-shirts supporting his cause. A poll taken after news of the loss broke showed 77 percent of French respondents saw him as a "victim."
Roslyne Morizot, 66, a retired former employee at a French regional office who now lives in Menton, was among Kerviel supporters at the border.
"There was no personal gain," she said. "He is not a thief. I am here to back him. Our prisons are full, and he is not dangerous to society," so rather than sending him to jail, they should assign him to do social work, Morizot said.
Before it's here, it's on the Bloomberg Terminal.
LEARN MORE