Credit Suisse Said Poised to Plead Guilty in Tax Probe
David Voreacos and Sara Forden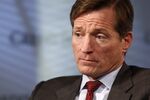 Credit Suisse Group AG could plead guilty as early as today to resolve U.S. accusations that it conspired to help Americans evade taxes, according to a person familiar with the matter.
The bank, Switzerland's second-biggest, has reached an agreement to plead guilty and pay about $2.5 billion to the U.S. Justice Department and regulators, said two people, who requested anonymity because the matter isn't public. Chief Executive Officer Brady Dougan and Chairman Urs Rohner also may step down, SonntagsZeitung reported May 17, without saying how it got the information.
Credit Suisse will be allowed to continue operating in the U.S., the people said. It's unclear how the market will react and whether a plea will affect the bank's ability to do business. Goldman Sachs Group Inc. CEO Lloyd C. Blankfein said that while dealing with a firm that has pleaded guilty to a crime may raise issues involving credit and reputational risk, his company is mindful of the stability of the financial system.
"It becomes a very weighty decision for us to cut someone off, and we wouldn't do it lightly," Blankfein, 59, said in a May 16 interview after New York-based Goldman Sachs held its annual meeting in Irving, Texas.
Rohner's resignation letter is being drafted, according to SonntagsZeitung. Tages-Anzeiger, another Swiss newspaper, reported over the weekend that "signs are mounting" that Dougan will be replaced.
'Fever Pitch'
Dougan, 54, the first American to serve as sole CEO of Credit Suisse, is one of the few leaders of a global bank to have endured the financial crisis and the scandals that followed. A 24-year veteran of the firm, Dougan became CEO in May 2007 after heading the company's investment bank. Rohner, 54, a former general counsel at Credit Suisse, became non-executive chairman three years ago.
"Clearly the excitement around Brady is building up to something of a fever pitch," said Christopher Wheeler, an analyst at Mediobanca SpA in London with an outperform rating on Zurich-based Credit Suisse. "If he does leave the bank that would not be good news because people see him as a pretty safe pair of hands."
The bank would pay almost $1.8 billion to the Justice Department, more than $600 million to the New York Department of Financial Services and $100 million to the Federal Reserve, the people said.
Calvin Mitchell, a Credit Suisse spokesman, and the Justice Department's Brian Fallon, declined to comment. Matthew Anderson, a spokesman for Benjamin Lawsky, superintendent of New York's Department of Financial Services, didn't respond to a phone message seeking comment.
Guilty Plea
Under terms of the agreement, Credit Suisse's parent company would plead guilty to a conspiracy charge in federal court in Alexandria, Virginia, the people said. Seven of the bank's executives were indicted in 2011 in that court.
A guilty plea by a bank's parent company would be the first since Credit Lyonnais SA, which admitted in January 2004 it made false statements to the Fed.
Credit Suisse will admit to a statement of facts that shows the U.S. tax evasion was widely fostered by the bank, the people said. The firm won't have to disclose the names of U.S. account holders under terms of the agreement, one person said.
The Swiss government won't resort to emergency laws to help Credit Suisse, Schweiz am Sonntag reported yesterday, citing comments by Swiss Finance Minister Eveline Widmer-Schlumpf to politicians at closed-door talks on May 16.
'Shameful' Behavior
Switzerland's former Justice Minister Christoph Blocher told the paper that Dougan and Rohner need to resign.
"It is shameful that the top brass are ducking for cover instead of fending off damage to the company," Blocher was cited as saying.
The U.S. has had its sights on Swiss banks since it intensified its probe of the largest, UBS AG, in 2008. Zurich-based UBS entered into a deferred-prosecution agreement in February 2009 and paid a $780 million fine, admitting it fostered tax evasion. The bank gave the U.S. Internal Revenue Service data on more than 250 accounts and later turned over information on 4,450 accounts. In October 2010, the U.S. dropped its criminal case.
UBS changed its top management after the settlement with the U.S., even as the bank maintained that executives didn't know about structures aimed at defrauding American authorities. Marcel Rohner stepped down as CEO a week after the settlement and was replaced by Oswald Gruebel, 70. The following week the bank nominated Kaspar Villiger, 73, for election to the board to replace Peter Kurer, 64, as chairman.
Blunt Criticism
U.S. Attorney General Eric Holder is seeking to blunt criticism from lawmakers that the Justice Department considered large banks immune from prosecution after the 2008 financial crisis because of their size and importance to the economy. Holder has been faulted for settlements that let banks escape criminal charges while paying fines, admitting wrongdoing and improving controls.
Last month, Credit Suisse set aside 425 million francs ($476 million) to settle the Justice Department probe, in addition to 295 million francs for U.S. tax matters in 2011. It agreed in February to pay $196.5 million to settle a related investigation by the U.S. Securities and Exchange Commission.
Credit Suisse shares fell 3.9 percent this year through the close of trading last week, valuing the firm at 41.8 billion francs. The 43-company Bloomberg Europe Banks and Financial Services Index gained 1.1 percent.
Hard Work
Testifying to the U.S. Senate Permanent Subcommittee on Investigations in February, Dougan apologized for employee misconduct while deflecting blame for the offenses to a few bankers who "skirted the bank's controls."
Dougan, an Illinois railway dispatcher's son known for his mild manner and intense work hours, started his career at Banker's Trust Corp. He moved to Credit Suisse in 1990 as part of a team led by Allen Wheat, where they set up a derivatives unit called Credit Suisse Financial Products.
When asked about his extravagances by Bloomberg News in 2007, after succeeding Gruebel as CEO, Dougan listed his focus on work and a fondness for exercise. He was described in news stories at the time as a quiet man who jogs, prefers diet sodas and cut costs by discouraging color copying.
Before it's here, it's on the Bloomberg Terminal.
LEARN MORE