'Godzilla' Towers Over Box Office to Give Legendary No. 1 Film
Anousha Sakoui and Jonathan Erlichman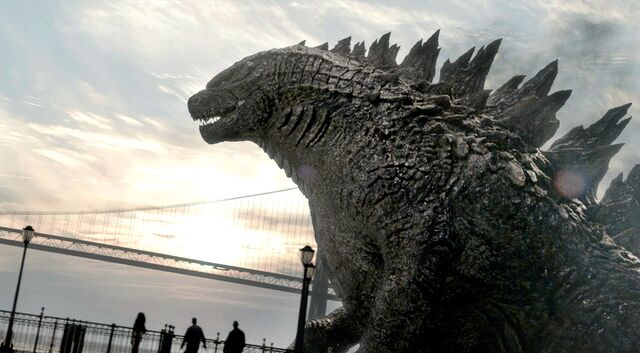 "Godzilla," a new take on the 1950s Japanese monster classic, opened at No. 1 in domestic theaters this past weekend, surpassing forecasts with $93.2 million for Thomas Tull's Legendary Entertainment LLC and partner Warner Bros.
The movie, which features "Breaking Bad" star Bryan Cranston, easily beat the $76 million estimate of BoxOffice.com. Box Office Guru, another researcher, forecast $68 million. "Godzilla" ticket sales in the U.S. and Canada lapped the competition, with returning movie "Neighbors" garnering $26 million to place second for Universal Pictures, according to an e-mailed statement yesterday from Rentrak Corp.
"Godzilla" marks Legendary's second original big-budget production, following the release last summer of "Pacific Rim" and is another step toward realizing Tull's ambitions to create an independent film and television production house. The film cost about $160 million to make, according to researcher Box Office Mojo.
"It was a monster opening for 'Godzilla' with the numbers coming in well over expectations," said Paul Sweeney, a Bloomberg Industries analyst. "Hollywood has learned that the success of these tentpole films have to play well at home and globally, and 'Godzilla' is the type of film that is embraced around the world."
A Sequel?
Legendary produced the movie and paid for about 75 percent of the budget, while distributor Warner Bros. provided the remainder. It's projected by BoxOffice.com to generate $240 million in its U.S. and Canadian theater run, revenue that is split with exhibitors. Imax Corp. said it had $14.1 million in domestic receipts, its third-best May debut.
"Pacific Rim," by comparison, was made for about $190 million and generated $101.8 million domestically, according to Box Office Mojo. The film scored in overseas markets -- the take in China alone surpassed the U.S. -- and it ended up with $411 million in worldwide ticket sales.
While that movie, which also featured lizard-like invaders from the sea, performed better overseas, "Godzilla" is shaping up as a hit in the U.S. as well, increasing the chances Legendary will commission a sequel.
"If this comes out and works well, we'll figure it out," Tull told reporters at a May 1 screening of the film at the TCL Chinese Theater in Hollywood.
Postwar Angst
"Godzilla" is the latest in a long line of TV shows and films that have tried and failed to recapture the allure of the 1954 Japanese film, originally titled "Gojira," that captured the postwar angst of nuclear Armageddon in its portrayal of a gigantic radioactive monster rampaging through Japan.
The 1998 Sony movie of the same name, starring Matthew Broderick, took in $136 million domestically and $379 million worldwide, according to Box Office Mojo.
"It's the ultimate monster movie," director Gareth Edwards told reporters at the May 1 event. Edwards's previous effort was the low-budget 2010 sci-fi movie "Monsters."
Unlike many big action movies, "Godzilla" registered well with critics. It garnered a 72 percent positive rating at Rottentomatoes.com, a review aggregator.
"The filmmaker makes good on his ability to conjure enormous scope and scale via clever staging and visual effects," said Peter DeBruge, international film critic at Variety.
Universal Deal
The film is Legendary's second No. 1 debut of the year. The sequel "300: Rise of an Empire" collected $45 million in its debut in March. That movie, also produced with Warner Bros., had a budget of $110 million, according to Box Office Mojo.
Legendary made its name working with Warner Bros. on films based on comic-book heroes, including the Christopher Nolan "Dark Knight" films about Batman. In July, it announced a five-year agreement to make movies and TV shows with Comcast Corp.'s Universal Pictures, a deal that took effect after a pact with Warner ended last year. "300: The Rise of an Empire" and "Godzilla" were already in production before the Universal deal was announced.
In the movie, Godzilla is pitted against two huge cockroach-like beasts that stir, bent on destruction, 15 years after the troubling events at a Japanese nuclear plant. Cranston plays a scientist who worked at the plant with his wife, Juliette Binoche, and Aaron Taylor-Johnson is their son Ford, a naval officer and a bomb-defusing expert.
Revenue Rises
Global anxiety has shifted from nuclear annihilation to climate change and other issues in the 60 years since the original movie. That may weaken the new film's message, wrote A.O. Scott in the New York Times.
"You can detect a trace of wistful worry in his rampages, as if he had begun to doubt his own relevance," Scott wrote.
"Godzilla" faced only one other film opening in wide release: Walt Disney Co.'s "Million Dollar Arm." The picture, starring Jon Hamm of "Mad Men" fame, tells the story of a sports agent's unusual recruitment strategy to get talented Indian cricket players to play Major League Baseball.
The picture, projected to take in $15 million, generated $10.5 million to place fourth in its debut. It received a 58 percent positive rating on RottenTomatoes.com
Among other returning movies, "The Amazing Spider-Man 2" added $16.8 million in ticket sales for Sony Corp., bringing its domestic total to $172 million. It finished third.
Weekend revenue for the top 10 films rose 15 percent to $168.6 million from a year earlier. Domestic box-office sales year to date are up 6 percent to $3.7 billion.
The following table has U.S. movie box office figures provided by studios to Rentrak Corp. The amounts are based on gross ticket sales for May 16 and May 17, and estimates for yesterday.
                    Rev.  Pct.            Avg./      Total Movie
                   (mln)  Chg. Theaters   Theater    (mln)  Wks
================================================================
1 Godzilla          $93.2     --    3,952  $23,584    $93.2    1
2 Neighbors          26.0    -47    3,311    7,850     91.5    2
3 Spider-Man 2       16.8    -53    3,991    4,209    172.2    3
4 Million Dollar Arm 10.5     --    3,019    3,482     10.5    1
5 Other Woman         6.3    -34    3,054    2,063     71.7    4
6 Heaven is For Real  4.4    -41    2,893    1,521     82.2    5
7 Rio 2               3.8    -24    2,371    1,603    118.1    6
8 The Winter Soldier  3.75   -35    2,271    1,655    250.6    7
9 Legends of Oz       1.95   -48    2,578      757      6.6    2
10 Mom's Night Out    1.9    -56    1,046    1,816      7.3    2



Top 10 Films Grosses



     This Week     Year Ago      Pct.
       (mln)         (mln)       Chg.
===================================
     $168.6        $123.8       +15



Year-to-date Revenue



     2014          2013
     YTD           YTD        Pct.
     (mln)         (mln)       Chg.
===================================
     $3,725       $3,514        +6

Source: Rentrak Corp.
Before it's here, it's on the Bloomberg Terminal.
LEARN MORE