Who Might Buy Rackspace? It's a Big List
By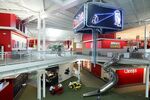 Cloud computing provider Rackspace says it's open to being acquired—and there's no shortage of suitors.
The San Antonio company has hired Morgan Stanley to explore its options, Bloomberg News first reported yesterday, amid "inbound strategic proposals" from a number of parties. Rackspace shares lost more than half their value from September to May 9 as the company struggled to keep pace with Amazon.com, the leader in cloud computing, and a host of other competitors that have plowed billions upon billions into the burgeoning market. Rackspace stock shot up as much as 30 percent on the news, to more than $36.

It could go higher yet. William Blair analyst Jim Breen notes that recent deals in the cloud computing arena might price Rackspace at $54 per share. The list of potential acquirers is lengthy. IBM is fighting to keep up with Amazon and willing to spend to do it, buying cloud provider SoftLayer last year for $2 billion and announcing another $1.2 investment in the business in January. Cisco Systems, EMC, Equinix, and others are on the "extensive" roster of potential buyers, Piper Jaffray analyst Andrew Nowinski says. AT&T and Hewlett-Packard are yet more cloud contenders with deep pockets that could snap up Rackspace to get more competitive.
Amazon, Google, and Microsoft have spent billions to build up their cloud offerings—Google dropped $2.3 billion on capital expenditures in the first quarter of 2014 alone, mostly on data centers. These three have driven the cost of cloud storage and computing down in a steep price war this year, and one of them could pay up to keep Rackspace out of lesser competitors' hands. Rackspace has a market cap of $5.1 billion.
Before it's here, it's on the Bloomberg Terminal.
LEARN MORE