TrueCar Sputters Onto Wall Street Amid a Crowd of Car-Shopping Sites
By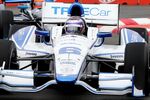 TrueCar may thoroughly overhaul the way cars are bought and sold, but public investors remain skeptical.
The Los Angeles-based company raised $70 million in an IPO last night, far less than it had hoped for. Shares, which began trading on the Nasdaq this morning, initially sold for $9 apiece, well below the $12 to $14 range TrueCar pitched to investors in its roadshow.
"We're launching into a market right now that's honestly a little choppy," TrueCar President John Krafcik said this morning. "The fact that we were able to get this off the ground today feels great."
The company has a novel business model, wedging itself as a sort of Web-based intermediary between car shoppers and dealers. Dealers list inventory on the TrueCar platform and customers, in turn, can print out a "price certificate" guarantee if they commit to a make, model, and offer from a nearby car lot. TrueCar collects $300 every time one of its referrals leads to a new car sale and $400 for a used car sale.
"We think our product can bring consumers and dealers together on the key promise, for us, which is to never overpay," Krafcik said. "Price confidence is really what we offer."
TrueCar also hopes to lower the average time buyers spend in a dealership from almost four hours to about one hour. "We really believe car buying should be fun," Krafcik said, a mantra that will be evident in a nationwide ad blitz the company will launch around Memorial Day.
After nine years, TrueCar's approach is finally getting some traction. Recently, it has been handling about 3 percent of new vehicle sales in the U.S. And last year its sales surged 68 percent to $134 million. Revenue increased another 75 percent in the first quarter. On the downside, the company has yet to post a profit and it's only working with about one in five U.S. car lots.
Is TrueCar better than spending a morning strolling around a dealership and haggling over bad coffee? Absolutely. Is it a perfect solution? Not really.
Dealers can't pay for preferred status, and they have some incentive to underprice one another, which is a plus for consumers. That said, the service doesn't offer complete price transparency and customers can't lock in some options, like sport packages and special financing offers, until they get to the dealer.
Meanwhile, drivers have more choices than ever when hunting for a car-shopping service. Edmunds.com, a car-reviewing giant, also offers a "price promise" to Web shoppers. Carvana is brokering transactions in the Atlanta area entirely online and delivering vehicles for free. It even has a vehicle vending machine (which looks remarkably like what one would expect).
"We would view our competition as the sum of all dealers," Carvana founder Ernie Garcia Jr. said.
One of the more interesting models is CarGurus, a Boston-based shop started by Langley Steinert, co-founder of TripAdvisor.
Drawing heavily on its travel-site DNA, the company's tech team crunches data to make sure searches yield relevant local results. Dealerships, which pay a fee to be on the platform, are rated by buyers after a purchase, providing incentive to make transactions go smoothly.
"It's about great deals from great dealers … and trying to make sure that that first listing is the most relevant for you," Steinert said.
Like Google, CarGurus has two or three paid listings at the top of the page, but Steinert says they are always decent dealerships and germane to what the shopper is looking for. "You can't buy your way to the top," he said.
The platform has about 45,000 car lots in its fold. CarGurus doesn't offer the kind of hand-holding TrueCar provides, and unlike Carvana it won't deliver a vehicle to your door. But it does leverage the Internet crowd for accountability. And Steinert said that for five years the company has posted a profit—something TrueCar's new investors will be hoping to see soon.