pursuits
Ten Poignant Thoughts You'll Read on Chipotle's New Packaging
By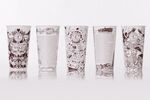 For those who don't already see poetry in a steak burrito, Chipotle Mexican Grill is offering something else to lift the soul: essays by famous writers and comedians, such as Jonathan Safran Foer (who approached Chipotle with the idea), Toni Morrison, and Judd Apatow. They'll be printed on the chain's cups and bags as long as customers are interested.
Chipotle hopes the marketing initiative will "entertain our customers using wit, humor, and design." A spokeswoman would not say how much each of the writers was paid. Here are some of the more poignant things you'll ever find on a disposable cup.
Toni Morrison took out her heart and gave it to a writer "made heartless by fame, someone who needed it to pump blood into veins desiccated by the suck and roar of crowds slobbering or poisoning or licking up the red froth they mistake for happiness." Sounds rough.
Comedienne Sarah Silverman's heart can't handle whatever's in an e-mail labeled "ELEPHANTS REUNITING AFTER 20 YRS." And she wants to remind you that the bathroom is not a library.
Writer Jonathan Safran Foer has a lot of questions for you, including, "Are bonsai cruel?" and "Is it in any way cruel to give a dog a name?"
Actor Bill Hader has a musical recipe for one crazy fountain drink. "This is a concoction that my sisters and I have been making since we were kids."
Director Judd Apatow's advice: "Don't be a jerk. Try to love everyone. Give more than you take."
Author  Michael Lewis had a Siamese cat he loved named Ding How that was run over by a car. Also, he is upset that he spends "too much time trying to spend less time" and thinks the best solution is to find tricks to slow time.
Speaking of time, essay writer George Saunders is speaking to you in the future. "Even though your kids not brought to term in womb, but in small hygienic chamber attached to mother, even though your kids born speaking several languages + playing violin, due to tiny chips in brains, future parents still find parenting hard?"
Parents teach us everything. Author Malcolm Gladwell and his dad helped build a barn with a community of Old-Order Mennonites, "a religious group who live as if the 20th century never happened." He admits, "We were skinny book-worms, in knee-socks and ironed short-sleeved shirts."
Psychologist Steven Pinker is optimistic about humanity, even if things aren't perfect. "Worldwide, fewer babies die, more children go to school, more people live in democracies, more can afford simple luxuries, fewer get sick, and more live to old age. "
Journalist Sheri Fink asks who you would save if there were a big disaster and no way to treat everyone. One student nurse responds: "On my ward we won't give up on anyone."
Before it's here, it's on the Bloomberg Terminal.
LEARN MORE